Greg Rutherford: Long jump gold medallist to leave coach Dan Pfaff
Last updated on .From the section Athletics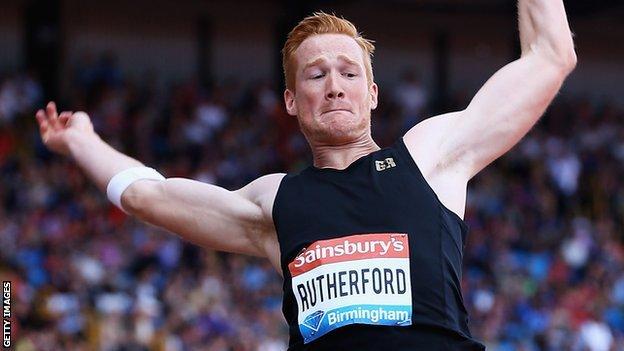 Olympic gold medallist Greg Rutherford is set to become the third high profile British athlete to part company with United States-based coach Dan Pfaff.
Pole vaulter Holly Bleasdale and Paralympic sprint champion Jonnie Peacock have also split from Pfaff.
"Ultimately when you've got a coach who is based in America and isn't coming back to Europe particularly, it makes things very tough," said Rutherford.
"I'm in the process at the moment of trying to sort something out."
Pfaff, who helped 26-year-old Rutherford win long jump gold at London 2012, coaches in Phoenix, Arizona.
and this year after spells in the USA and now Rutherford, who has struggled with injury, has followed suit,
"I don't want to work with anyone but Dan Pfaff, but things change," the Milton Keynes athlete added.
event in Birmingham with a jump of 8.11m, 20cm short of his Olympic gold-winning leap last summer.
He has had to adjust his technique because of fluid on two of the tendons at the back of his knee, which has affected his form.
"It's about tying to stimulate my body to remove it, but for whatever reason it's being really persistent," he said.
"I'm not able to do the lateral step that I was doing so well last year that was helping me jump so far.
"I'm having to revert back to something I'm not comfortable with. I've spent pretty much this entire year overseas training, trying to get myself back into a decent shape."