Rob Denmark: Jessica Judd pressure must be limited
Last updated on .From the section Athletics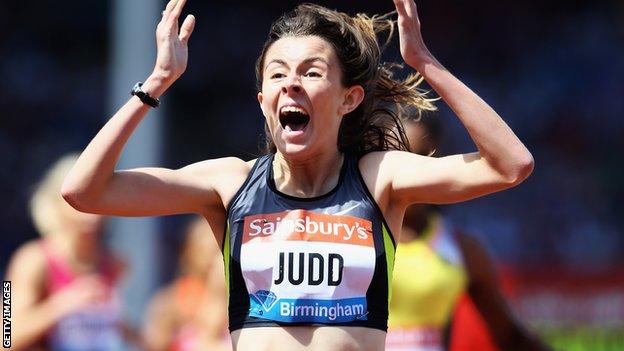 Rob Denmark, coach to Jessica Judd, has warned against too much pressure being placed on the teenager after her recent 800m wins in the Birmingham Diamond League and European Team Championships.
The 18-year-old's win in Birmingham saw her become the second British teenager ever to run under two minutes for 800m.
"It's been a crazy, exciting, nervy few weeks," Denmark told BBC Essex.
"Jess has captured the imagination of the public but we need to be conscious of it and make sure it is controlled."
The last British woman to break the two-minute barrier whilst still in her teens was Bournemouth's Charlotte Moore, who did so at the Commonwealth Games in 2002 but then failed to ever replicate the achievement.
Judd's time of one minute and 59.85 seconds ranks her 17th in the world this year and she heads into this weekend's British Championships having won her last five 800m races.
"To run this well and have all the attention that's been bestowed upon her, well I've never encountered anything like it during my time in athletics," Denmark continued.
"There's certainly a heightened interest in athletics post-Olympics and that, combined with the way she runs, how young she is and the fact she is winning races, has meant there's been a real explosion."
Denmark, who competed at the 1992 Barcelona Olympics and is the fifth fastest British man ever over both 3000m and 5000m, began coaching the Chelmsford-based Judd in early 2012.
Last summer she won an 800m silver medal at the World Junior Championships, before placing fifth in the 1500m and is currently funded by British Athletics' world class performance programme.
"The last few months have not been financially lucrative and even with the funding it's been difficult for both Jess and me," added Denmark.
"It's a fantastic opportunity to coach someone like her and I have a responsibility to do everything I can to get it right - it's a full-time job.
"Jess will only be 21 by [the 2016 Olympics in] Rio and although it is important for us, it's more important to lay the foundations now for her to develop and be successful in the long term.
"In terms of the attention, the sensible ones know it doesn't last forever, but athletes don't tend to be in this sport to become famous.
"They run out of an intrinsic need to satisfy their own ambition and achieve everything they are individually capable of - Jess is no different."