Tyson Gay and Asafa Powell: A tragedy for athletics - Neil Black
Last updated on .From the section Athletics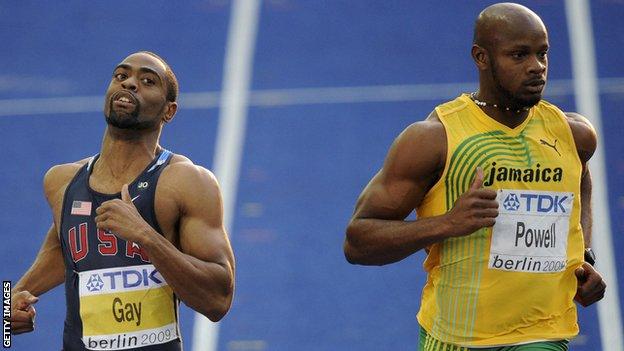 Failed drugs tests for two of the fastest ever sprinters are a "tragedy" for the sport, says UK Athletics performance director Neil Black.
Black said his initial reaction to the news was "shock and amazement".
He added: "Then you rapidly go through to the tragedy, the shock to the sport, that it doesn't do the sport any good."
Gay, the joint-second fastest man ever over 100m, was told by the US Anti-Doping Agency on Friday that his A sample from an out-of-competition test in May was positive.
Powell, the all-time fourth quickest man over 100m, tested positive for a banned stimulant at June's Jamaican Championships.
Black, who took over as UK Athletics performance director in September 2012, said the positive tests made him question everything.
"People start making comparisons, start thinking 'goodness, if that can happen to somebody at that level... How? Why?' You rapidly go off with that questioning," said Black.
"It just triggers you off to think if it is possible to be even more diligent in our awareness, if it is possible for us to remind athletes of their responsibility and accountability for all these things, to make sure they are looking at every aspect of what they do, what they take, when they take it, why they take it. Check, check, check, check, check.
"When in doubt, don't take it."
Powell has insisted he had never "knowingly" doped, while Gay, who is waiting for his B sample, said "I basically put my trust in someone and was let down".
Former 1500m world champion Steve Cram said: "It's great that we are not frightened of catching the big names but it has a massive impact on the sport.
"The sport has to continue to hold its head up high. It will be interesting to see what the authorities do, what bans will be given out, but the one good thing is that they've all held their hands up."
In 2006 Darren Campbell refused to join his British team-mates on a lap of honour after winning the 4x100m at the European Championships, because of the inclusion of drug cheat Dwain Chambers.
He told the BBC: "What does anyone believe anymore? People doubt the sport and question whether what they have witnessed is natural.
"There's no innocence until proven guilty because of what others have done.
"In a lot of people's eyes we are all guilty and it's not supposed to be that way.
"I never ran under 10 or 20 seconds but my conscience was always clear and, as long as I could keep it that way, it meant I could always sneak a medal.
"That's how the British athletes need to think. You stand on that line and do your best."
Former world marathon champion Paula Radcliffe, 39, has called for tougher sanctions for athletes found guilty of doping.
She said: "Ultimately, athletes are responsible for what they put in their bodies. At least Gay has owned up and is willing to take his punishment.
"Athletics is committed to addressing the problem. We probably need tougher sanctions and to start sanctioning countries above a certain level of positives."
Jason Gardener, 37, who won gold in the 2004 Olympic 4x100m relay, added: "It is really disappointing but am I shocked? Not really.
"When will the governing bodies listen to people on the street about stronger bans? We want a stronger message."