Tyson Gay & Asafa Powell: Failed tests a 'shattering double blow'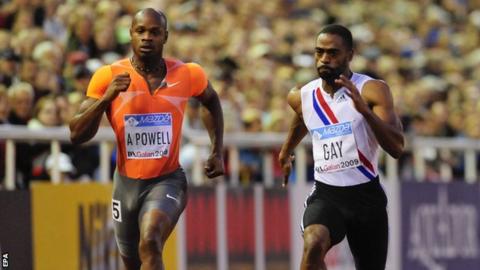 One would have been bad enough. The shattering double blow places Sunday, 14 July among the most damaging days in athletics history.
Drugs scandals are measured according to the stature of the personalities involved and, with Tyson Gay and Asafa Powell first and third in the 100m rankings for the season, and second and fourth respectively on the all-time list, the stain is close to indelible.
Five of the 10 quickest men in history have now tested positive. Six, actually, but the American Tim Montgomery's marks have been scratched from the records. Among the top four, only world record holder Usain Bolt remains unblemished.
The 10-second spectacle that stops many a nation during the Olympic Games is leaking credibility. In the past decade, Olympic champions Marion Jones and Justin Gatlin, along with British sprinter Dwain Chambers, had already given cynics reason to disbelieve.
And Ben Johnson owns the copyright on seismic sporting shocks after being stripped of his 100m gold medal from the Seoul Olympics following a positive test.
In Johnson's native Jamaica, the toll of miscreants is rising at a rate that can only be described as alarming. Powell's disclosure comes painfully soon after the double Olympic 200m champion Veronica Campbell Brown failed a test at a meeting in Kingston.
London 2012 champion Shelly-Ann Fraser-Pryce and Yohan Blake, Bolt's training partner and the reigning world 100m champion, are among the many Jamaicans nabbed in a shocking spell dating back to 2008.
There is much consternation about Russia's recent record, with more than 40 athletes currently serving suspensions. But Russians compete across a wide range of disciplines, whereas the Jamaican prowess is largely confined to sprints. In relative terms, the Jamaican problem is equally troubling.
The scope of sanctions has to be addressed - and not just by the authorities. The decision by Gay's key sponsor to suspend his contract is a welcome move. The curbing of athletes' earning power might not deter them from sinning in the first place but it could dissuade them from re-entering the sport after completing their sentence.
Until two years ago, drug cheats were banned from competing at most of the Diamond League and other major meetings around the world. Big pay-days were denied them. But the promoters relented in June 2011 when a court case in Switzerland established the right of athletes to ply their trade even if their profile included a drugs transgression.
Stronger support from governments, who help to fund the World Anti-Doping Agency, could close such a loophole and rob the cheats of the chance to rejoin the sometimes lucrative fray. Just last week, Wada and UK Anti-Doping warned that funding cuts would hinder their cause.
In most cases, the athletes are punished while those around them roam free. Gay's long-time coach, Lance Brauman, and Stephen Francis, who has taken the credit for much of Powell's success, have both been involved with other athletes who have tested positive.
They should at least be called to explain their knowledge, if any, of the process.
Chambers told me in March 2009 that what he did as part of the Balco scandal a decade ago would be impossible to repeat in the British system of today.
That is because he believes the "whereabouts" system, which requires athletes to say where they will be for an hour a day, seven days a week, for up to three months in advance, is so efficient.
The concern among British athletes and coaches is that too few countries are as rigid in their policing.
The upside of this latest scandal may be dwarfed by the depression but the authorities deserve a salute. Often, they stand accused of cover-ups and incompetence but such criticisms are hard to uphold at the moment.
So, too, is belief in one of the world's oldest sports. The faith of even some diehards has been blown apart by successive, seemingly relentless, explosions of bad news. And ultimately, the shrapnel in athletics ricochets onto the Olympic Games.
For all the successes of cyclist Sir Chris Hoy (six Olympic gold medals), rower Sir Steve Redgrave (five Olympic golds) and the rest, the Games is built around track and field.
Take away the showpiece arena - and nine successive nights of 80,000-strong crowds - and the Games is greatly diluted as an attraction. That is why the fight is worth pursuing.
Next month's World Championships will feature Britain's James Dasaolu, the third-fastest man in 2013 when Gay and Powell's times are removed.
But the year's fastest man will not be present. And those inclined to celebrate ought first to pause and consider Gay's replacement.
Michael Rodgers finished fourth at the US trials last month, with only the first three qualifying. He can now expect an upgrade, two years after he, too, tested positive.
"He's no druggie," said Rodgers' agent at the time.
Heard that one before?