Asafa Powell: Trainer refuses to be 'scapegoat' over dope test
Last updated on .From the section Athletics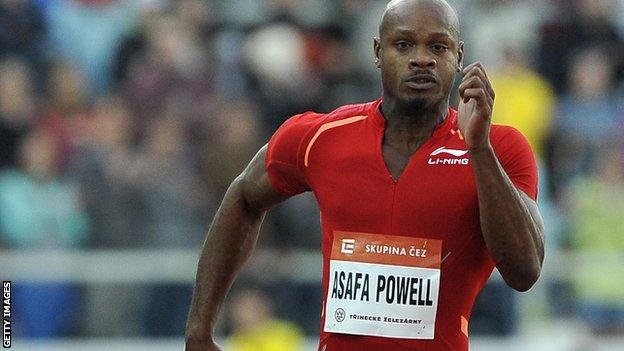 Asafa Powell's trainer Chris Xuereb says he should not be a "scapegoat" for the former 100m world record holder's positive drugs test.
Powell and fellow sprinter Sherone Simpson tested positive for the banned stimulant oxilofrine at the Jamaican National Championships in June.
Xuereb rejected claims from Paul Doyle, Powell's agent, that the results were due to supplements he had provided.
"I did not provide any banned or illegal substances," insisted Xuereb.
"I am extremely disappointed that these athletes have chosen to blame me for their own violations."
Canadian Xuereb, who said his main role was "to provide soft tissue massage therapy as well as nutritional help" to Powell and Campbell, only began working with the pair in May.
On Tuesday, Doyle indicated that the supplements provided to the athletes by Xuereb lay behind Powell and Simpson both testing positive.
"We were trying to figure out what went wrong and it was pretty obvious to us where we needed to look," Doyle told the New York Times.
"There are many different things he was giving them and we still don't know which one caused the positive test. Most of the supplements he gave were for recovery or energy during workouts."
The last man to hold the individual 100m world record before compatriot Usain Bolt broke it in 2008, 30-year-old Powell has denied he knowingly took any banned supplements or substances.
"It is time the athletes took responsibility for their doping instead of looking around for a scapegoat, whether that person is their therapist, bartender or anyone else," said Xuereb.
"While I did recommend vitamins, all vitamins recommended by me were all purchased over the counter at reputable nutritional stores and were major brands.
"These athletes did not inform me that they were taking any additional supplementation other than what I recommended."
He added that he believed the athletes had in fact been taking more supplements without his knowledge.
American Tyson Gay, the joint-second fastest man ever over 100m, was told on Friday that his A sample from an out-of-competition test in May was positive.
Both he and Powell are awaiting the results of their B tests.