Richard Kilty: Great Britain selection "bittersweet" for sprinter
Last updated on .From the section Athletics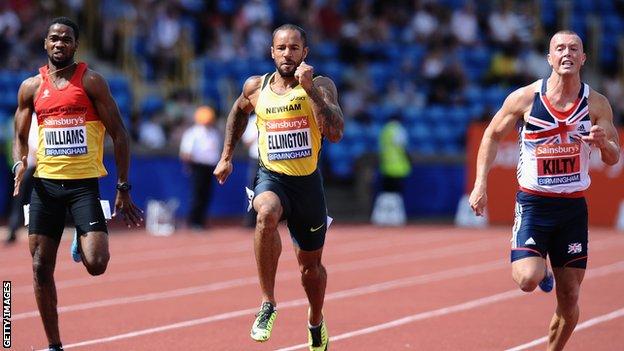 Richard Kilty has said his selection by Team GB for the 4x100m relay at the World Championships is "bittersweet" after missing out on a 200m spot.
"It is a bit bittersweet. Delano Williams, who is the so called new wonder kid, performed pretty well, but me and James Ellington both beat him."
"I am pretty shocked I didn't get the spot over Delano Williams," he said.
Williams, 19, only recently switched his allegiance to Great Britain from his native Turks and Caicos Islands and although the World Junior 200m champion was only third in Birmingham last weekend, he ran his personal best of 20.27 seconds this year, which is faster than any Briton has run in five years.
Despite his disappointment, Gateshead Harrier Kilty added: "To be named in the 4x100m relay squad after the position I was in a couple of months ago. it's an awesome feeling. I've turned my life around in the last six months."
The Middlesbrough-born sprinter also missed out on a place at London 2012 despite running the required 'A' standard time, a decision he said at the time left him "heartbroken."
He had his Lottery funding cut last October and considered quitting athletics altogether before returning this season.
"A lot of people have said 'has it fuelled you' and 'did last year make you want to come back or train harder' and it a sense it did," Kilty told BBC Tees.
"I tried to forget about that and think that 2012 is gone now, 2013 is another year.
"In my darkest moments last year, there wasn't a lot of people that stuck by my side. There was not one person that believed in me apart from my dad and it was dark times, but I stuck through it and kept myself motivated."