Island Games 2013: Jersey's Le Cornu wins 400m gold in Bermuda
By Tim Pryor
BBC Radio Jersey at the National Sports Centre, Bermuda
Last updated on .From the section Athletics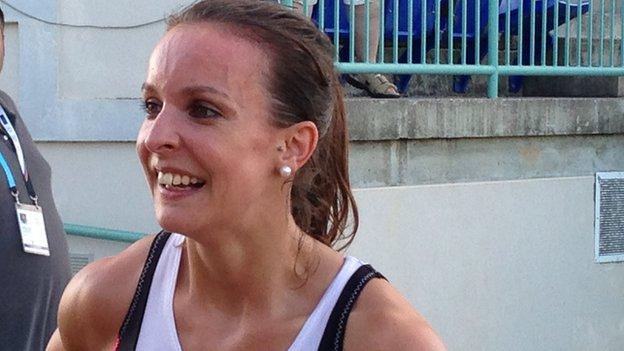 Hazel Le Cornu won the 400m by less than half a second to clinch Jersey's first athletics gold of the 2013 Island Games in Bermuda.
She led throughout and finished in 58.16 seconds but had to hold off a strong late challenge from Shetland Islands runner Emma Leask.
"I wasn't 100% sure if I'd won when I crossed the line," admitted Le Cornu.
"It's just so hard running it from lane eight where you can't see anyone so I'm absolutely over the moon."
She added: "I hoped for a bit quicker to be fair but the wind wasn't in my favour in lane eight."
Le Cornu's success was one of three medals for Jersey in the athletics on Tuesday.
Elliott Dorey got silver in the 800m and Dan Robinson celebrated silver in the 3000m steeplechase just two days after being stung by a jellyfish.
"I was just swimming and I just got a tentacle here [on my arm] and it started stinging," he told BBC Radio Jersey.
"I'd been told there were jellyfish in the water but I'd seen people swimming the last couple of days and I thought I'd be fine.
"I tried to swim away and the next thing I knew it'd got my legs."
The three medals helped Jersey to second spot in the overall table at the end of day three of the Games in Bermuda.
More than 20 islands are competing in 16 sports including swimming, beach volleyball and tennis.