English set for World Championships after Dublin victory
Last updated on .From the section Athletics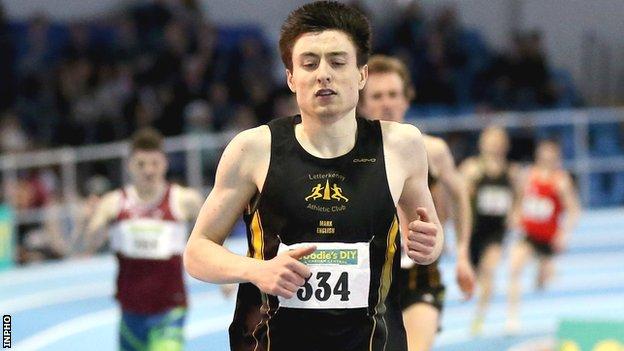 Letterkenny athlete Mark English looks to have booked his place at the World Championships after a brilliant performance in Dublin.
English clocked a new 800m personal best of 1:45.32 when winning at the Morton Games in Santry.
The time, .45secs inside his previous best, was .02 outside the A standard for the World Championships in Moscow.
However, it will be a surprise if the Donegal man is not now selected for Moscow.
English was a controversial omission from last year's London Olympics after finishing fifth in a loaded 800m final at the World Junior Championships.
Two of those ahead of him in the Barcelona final went on to clinch medals at the Olympics.
Wednesday night's performance followed his disappointment at last week's European Under-23s.
Still troubled by a virus, English had failed to progress from the opening heats in Finland last week.
English finished ahead of American duo Casmir Loxson (1:45.75) and Mark Wieczorek (1:45.86) while another Irishman Paul Robinson also made a major breakthrough by ducking under 1:46 for the first time as he clocked 1:45.86.
Kildare man Robinson is aiming to secure a 1500m berth in Moscow and on Wednesday's form, he should further his claims by improving his metric mile best of 3:37.66 in the coming weeks.
Belfast athlete Jason Harvey, following his false-start disqualification at last week's European Under-23s, was some way off his best as he clocked 52.00 to finish second in the 400m hurdles.
Harvey's Irish team-mate Thomas Barr, who recently ducked under 50 seconds for the event, took victory in 50.04.
With Jason Smyth not in action, American Rae Edwards won the 100m in 10.51 - .01 ahead of Ireland's Steven Colvert.
Smyth heads with the Irish team to the Paralympics World Championships on Thursday and Michael McKillop warmed up for the Lyon event with a 1:54.63 clocking in the third 800m race at Santry.
American Cory Leslie won the Morton Mile in a slick 3:55.85 with Waterford man David McCarthy (3:57.93) and Eoin Everard (3:58.93) both under four minutes as they took seventh and ninth places.
City of Derry's Conor Bradley was 13th in 4:01.83 while John Coghlan tailed off in 15th in 4:07.30.
Donore's John Travers clocked 7:58.51 to finish sixth in the 3000m won by Mexico's Juan Luis Barrios in 7:45.12.
With Brian Gregan an absentee, Trinidad's Renny Quox won the 400m in 45.77 while Irish athlete Laura Crowe continued her good recent form by running 2:02.63 to finish second in the women's 800m behind Kate Mackey (2:02.21) of the USA.