Jenny Meadows: Olympic bid puts retirement plans on hold
Last updated on .From the section Athletics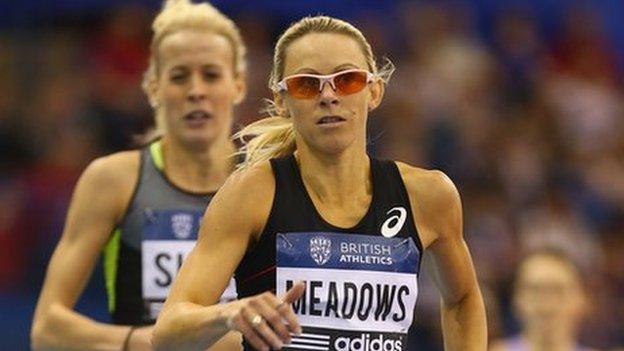 Jenny Meadows has been given the all-clear to start training again and has set out on her twin ambitions to win Commonwealth and Olympic medals.
"Originally I planned to retire after the Commonwealths next year, but I'd like one more shot at an Olympic medal," she told BBC Sport.
The 2011 European indoor champion suffered a thigh bone injury in June.
She hopes to be back in action over a mile as part of the Great North Run event in September.
Meadows, who won bronze in 2009, was ruled out of next month's World Athletics Championships with a stress femur (thigh bone) fracture.
But a recent scan brought positive news which means she can begin to focus on future targets.
"It is healing really well, as good as we could have hoped, and I can now build into training," she said.
"Hopefully I'll be in training when the World Championships are on. It's brilliant news as you never know if you are a good healer."
Meadows hopes to take part in the mile race for elite athletes on 14 September, the day before the Great North Run in Gateshead.
She will then work towards the World Indoor Championships (March - Sopot, Poland), Commonwealth Games (July/August - Glasgow) and European Championships (August - Zurich) next year.
Meadows added: "The Great North Mile is my own personal motivation and there's also the possibility of a couple of IAAF challenge races in September.
"The big things next year are the World Indoors, the Euros and the Commonwealths."
In July 2012, on the day she was ruled out of her home Olympics, Meadows became European indoor champion following an upgrade from silver after the backdated disqualification of Russian Yevgenia Zinurova for doping.
The Wigan athlete, who had suffered with an Achilles problem, was left out despite posting a faster qualifying time than the selectors' pick, Lynsey Sharp.
Meadows decided not to appeal against the decision, knowing a verdict in her favour would have meant the omission of Sharp, who went on to reach the semi-finals, where she finished seventh.
"I enjoyed the whole Games, they were amazing, but it was pretty hard to watch from home," Meadows continued.
"My family had tickets for the 800m final which they almost begged, borrowed and stole to get, but ended up giving them away."
Russia's world champion Mariya Savinova won gold in London from South African Caster Semenya.
She said: "Looking at it, I couldn't have beaten the Russian winner. But when I watched the race, it was quite frustrating because I thought silver or bronze was achievable.
"That has spurred me on and to look at making Rio."