Jordanna Morrish aims high after shock GB trials success
Last updated on .From the section Athletics
Cornwall high jumper Jordanna Morrish says her unexpected success at the British Championships has inspired her to take the sport more seriously.
The 17-year-old jumped 1.77m to finish second in the high jump in Birmingham.
"I'd stopped taking athletics seriously as I didn't do so well last year, then I concentrated on my A-levels this year," she told BBC Radio Cornwall.
"I actually went on holiday the weekend before, but now I've got faith in myself to keep going in training."
Morrish finished behind Scotland's Emma Nuttall after producing a personal best on the biggest stage of her fledgling athletics career and managed to catch the eye of some of the key people in British athletics.
"The national high jump coach came up and spoke to me which is an achievement in itself," she said.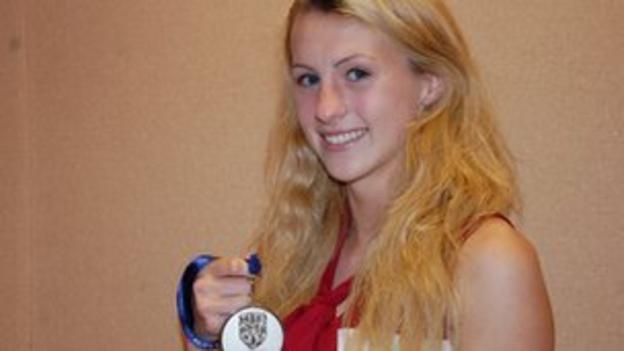 "He was speaking about the next two years and hopefully if I keep improving I could be looking at a GB vest - there could be a future in it for me."
Nevertheless, Morrish admitted her display at the Alexander Stadium - beating the likes of Adele Lassu and Ella Gibbons - caught her by surprise.
"It was a huge shock - I didn't expect to be in the top eight so to get a medal was beyond anything I expected at all," she said.
"It was the first time I've competed at senior level and it was scary to go into a stadium which was full rather than just five or six people dotted around!
"There were cameras everywhere and when I walked out they showed us on the big screen and talked about us over the PA which was incredibly intimidating."
Morrish admitted that her main aim at the start of the day was to avoid embarrassing herself.
"The starting height was 1.66m and I usually start at about 1.50m so I was worried about not even getting a height," she added.
"So my first jump (which she cleared) was the scariest of the whole thing and after that was a bit of a blur.
"Up until the week before I'd only jumped 1.74m and I hadn't jumped that in two years and then the week of the competition I jumped 1.75m which was a PB and then I went higher again."