Jessica Ennis-Hill throws javelin personal best despite ankle 'pain'
Last updated on .From the section Athletics
Jessica Ennis-Hill set a new personal best in the javelin on her return from injury but admitted she is still feeling pain in her ankle.
The 2012 Olympic heptathlon champion threw 48.33m in her first appearance of the season and won the long jump with a leap of 6.26m at the Loughborough European Athletics Permit.
Ennis-Hill, 27, is hoping to be ready for August's World Championships.
"It's pain. It's one little bit that's really painful," she said.
"When I compress it and when I'm pushing off it it hurts.
"If I had one event to prepare for, then maybe it would have been a bit easier. But having to train for seven events and get all the work done that I needed to get done, it just hasn't happened, unfortunately."
Ennis-Hill admitted she will not make a decision on competing at the World Athletics Championships in Moscow until she is sure she will be able to compete for gold.
"I want to be competitive, I don't want to go to just enjoy it," she said. "I want to contend for the gold medal."
Competing in the javelin in front of 500 spectators in Loughborough, Ennis-Hill's personal best throw earned her a finish in fourth place.
Ennis-Hill, with her left ankle heavily strapped, took off on her right leg in the long jump despite switching to her left following the broken foot she suffered in 2008, which ruled her out of the Beijing Olympics.
However, it is understood the change has nothing to do with her ankle problem, and that she had decided to switch back to her right leg following London 2012.
Ennis-Hill was scheduled to compete in the heptathlon in Estonia at the end of last month but had to withdraw from the competition because of her injury.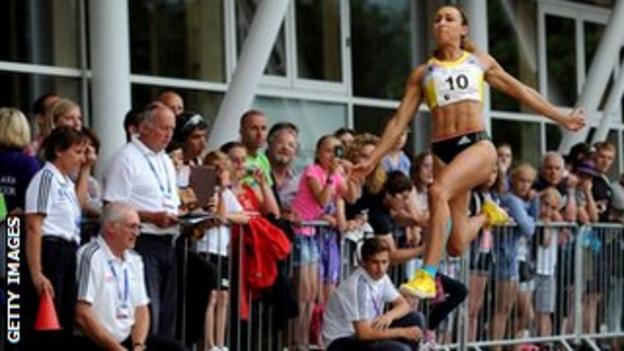 That means the heptathlon in Moscow will be her first seven-event competition since the Olympics.
The injury has forced Ennis-Hill to delay a comeback five times this summer, and most recently she pulled out of last Friday's Diamond League meeting in Monaco.
The Sheffield-born athlete is still keen to compete in the Anniversary Games at the Olympic Stadium on Saturday, where she is due to line up in the 100m hurdles and the long jump, but her ankle will be monitored in the coming days.
"I am still hoping to be in London," she said. "We can assess how it goes, how I'm feeling physically, how it holds up the next day or two and then decide whether I'm ready."
Ennis-Hill added: "It's been really frustrating. I didn't think I'd be opening up my season in July, and practically the end of July.
"It's just been really frustrating and disappointing."