London Anniversary Games: BBC experts recall London 2012
Last updated on .From the section Athletics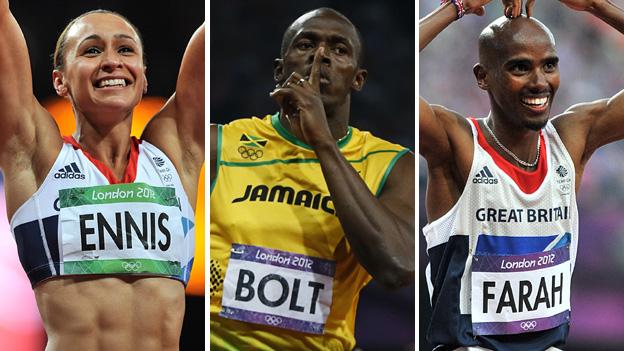 During 19 golden days of sport, London 2012 created moments that will live in the memory for a lifetime.
Everyone has a performance which they cherish. For some, it will be the sight of Mo Farah being roared down the home straight to victory in the 5,000m. For others, it will be watching celebrated sprinter Usain Bolt become, in his own words, a
As the Olympic Stadium prepares to host this weekend's Anniversary Games a year on from the London 2012 opening ceremony, BBC Sport's athletics experts recall their favourite Olympic Stadium moments.
Steve Cram, former world 1500m champion
Moment of London 2012: "David Rudisha's world record in the 800m is something I'll always remember as an incredible piece of running. There is no pacemaker, it's the Olympic final and he goes out and breaks the world record.
"But for pure drama and for encapsulating the success of the Games, Mo Farah's 5,000m gold is hard to beat. It was special. I was commentating on the event and, when you're part of something like that, sometimes you have to pinch yourself. It was a moment which will live with me for the rest of my life."
Anniversary Games event to watch: Men's 3,000m (Saturday, 16:32 BST)
"I'm looking forward to seeing what Mo can do in the 3,000m on Saturday, and whether he really goes for it. The world record for that distance is one of the crazy records. He could run that in a big race but I don't think that's what he wants this weekend. David Moorcroft's British record should be straightforward for him, if that's what he wants to do."
Jonathan Edwards, former world and Olympic triple jump champion
Moment of London 2012: "The standout moment was the response of the British public, to see a full stadium, the buzz, the sense of pride. That, for me, is what stood out.
"In terms of the sport itself, in terms of pure achievement, David Rudisha's 800m, from gun to tape, was incredible. It was the first time a man had gone under one minute 41 seconds and, given Seb Coe was so important to the Games, to have a world record in his event was truly incredible.
"From a British perspective, I commentated on Greg Rutherford winning gold in the long jump. That competition was wide open and to see Greg in the middle of all the hullabaloo around Jess Ennis and Mo Farah was perfect athletics. That night, Super Saturday, stood out because it was unexpected."
Anniversary Games event to watch: Men's 100m (Friday, 21:48 BST)
"It's great to have Usain Bolt competing again at the Olympic Stadium. Bolt versus Britain's very own James Dasaolu should be an interesting race. Bolt is obviously going to win but James's best of 9.91secs is not to be sniffed at and it's actually faster than Bolt has run this year.
"Then there's Mo Farah in the 3,000m. The distance events will be very competitive in Moscow and Mo's race on Saturday should be compelling."
Denise Lewis, former Olympic heptathlon champion
Moment of London 2012: "It is so hard to pick one performance because there were so many great track moments. David Rudisha in the 800m and Mo Farah winning double Olympic gold were both incredible performances.
"With Mo in the 5,000m, it was watching the drama unfold, the tension was so intense you just couldn't take your eyes off him. Add that to Steve Cram's commentary and it was amazing. I was having palpitations.
"But, a personal highlight was watching Jessica Ennis-Hill win heptathlon gold. I had watched her develop into a fine heptathlete, she was the poster girl and the pressure was on.
"Jess had won the competition after the javelin, although for me the gold medal was effectively hers after the long jump, so for drama you can't liken it to Mo's 5,000m gold. For personal pleasure, though, seeing Jess on the podium, her face alive and full of sheer disbelief at what she had achieved, was magical."
Anniversary Games event to watch: Women's 400m hurdles (Friday, 20:04 BST) and Jessica Ennis-Hill in the 100m hurdles and long jump (Saturday, 14:11 and 15:50)
"It would be great to see Jess show what she's got. We can't expect much from someone who is just starting her season, she'll just be wanting to blow away the cobwebs and come through it unscathed.
"I can't wait to see Perri-Shakes Drayton in action in the 400m hurdles and Usain Bolt in the 100m. This weekend is a celebration and hopefully people will get a taste of what the Games were like."
Donovan Bailey, former world and Olympic 100m champion
Moment of London 2012: "The very first thing I remember about the Olympic Games was how organised and professional everything was, it made my job a lot easier.
"But, in terms of performance, I am going to remember the sprints. The 100m is the marquee event, I was in the studio working for Canadian TV and seeing Usain Bolt win gold was amazing. But I also remember Greg Rutherford winning gold in the long jump, because he was coached by my coach."
Anniversary Games event to watch: Men's 100m (Friday, 21:48 BST)
"The 100m is something I'm always going to look at and I'm particularly keen on seeing how James Dasaolu will run in front of a home crowd. James could be the surprise of the season. He has got some work to do, but he's been consistent and he's extremely talented. He could achieve great things.
"Usain Bolt is not the man - he's the only man. There are a few athletes, including James, who could run 9.8 seconds, but Bolt hasn't any major challengers. He's the only athlete who can win a race making mistakes. All he needs to do is get through this race and remain injury free."