Jessica Ennis-Hill's Anniversary Games fitness test
Last updated on .From the section Athletics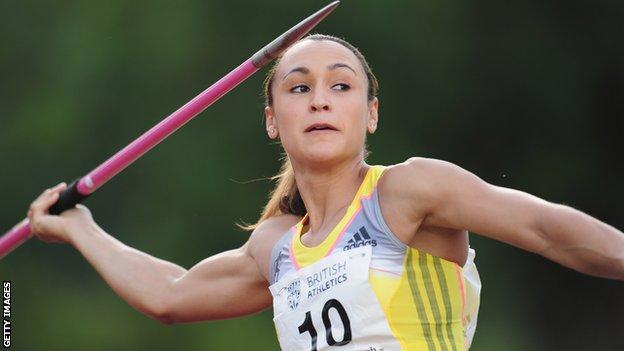 Jessica Ennis-Hill says her appearance at the Anniversary Games on Saturday will be a "big test" of her Achilles problem ahead of the World Athletics Championships in Moscow next month.
The London 2012 heptathlon champion, 27, will take part in the 100m hurdles and long jump at the Olympic Stadium.
"It's going to be a big test to firstly do the hurdles and then go to the long jump afterwards," she said.
"That will simulate what I will have to do in Moscow at the Worlds."
Ennis-Hill was forced to put off her return from the injury on five occasions, but she set a personal best in the javelin and won the long jump in Loughborough on Tuesday.
She is now set to feature at the three-day meeting in London after her Achilles reacted well to her first competitive action of the season.
The Sheffield-born athlete, who will line up against Olympic champion Sally Pearson in the hurdles, is still competing in pain and will take a painkiller before the race.
"Tuesday was the first test, but I had a good response," she continued.
"This is the next big test with the hurdles. It is explosive and I come down with my lead leg on the damaged Achilles. It will be good to see how it goes and how it responds the day after.
"I will have a really good indication from this weekend about how I do in the hurdles and then how the long jump is going and then I can make a decision about Moscow."
The heptathlon at the World Championships in Moscow would be the first time Ennis-Hill has competed in the event since the London Olympics.
She is hoping to make a decision on her participation in the World Championships soon rather than leave it "until the last minute" despite the fact the heptathlon event does not begin until 12 August.
"I want to get my mind ready for it," she said.