Mo Farah 'training harder than ever' to stay at the top
Last updated on .From the section Athletics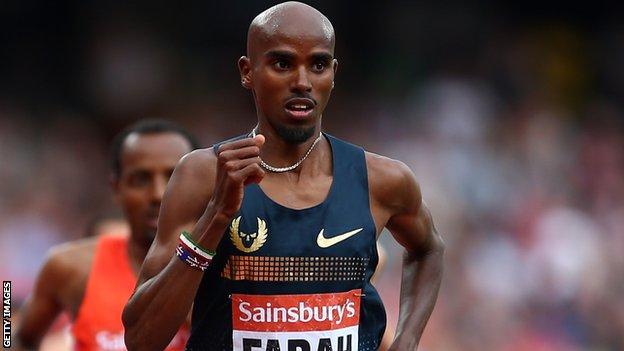 Double Olympic champion Mo Farah says he is training "a lot harder" including not seeing his daughters for nearly two months as he aims to stay on top.
"I love what I do and I just want to train," Farah told BBC's Sportsweek.
"I want that feeling again [winning two Olympic golds] and that makes you more of a fighter than anything else."
The World Championships in Russia are next up for Farah and he wants to make sure he can dominate the field, as he did in London 12 months ago.
"Straight after Birmingham [the Diamond League meeting in June] I went to St Moritz to train in the high altitude. That's where I have been based and training has been going well. I am in the right place, I am happy, I have got great training partners so everything is good," he added to BBC Radio 5 live.
"I want to win medals, I want to make the country proud, I want to make the people proud and I want to do well for myself.
"It's going to be tough but I am going to go out there and give 110% and that's all you can do."
Farah has found his work-life balance to be a problem, especially when it comes to his twin daughters, Aisha and Amani, who were born in August 2012.
"It's been hard in terms of my life because half of the time I am away at training camps," he said.
"Yesterday I got a bit emotional because I haven't seen my twin girls for nearly two months. I went to pick them up and one of them started crying, she didn't even recognise me and that was hard as a parent when you have been away for so long.
"Sometimes that's what it takes being a true athlete. Being a long distance runner is not easy, it's not as easy as everything else or everyone would be doing what I am doing."