Usain Bolt tips British teenager Delano Williams to be a 'great'
Last updated on .From the section Athletics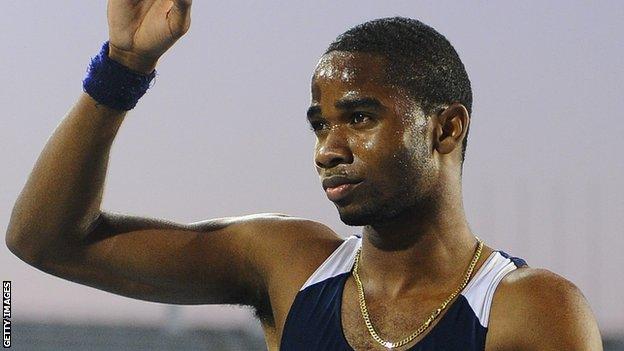 Six-time Olympic champion Usain Bolt says British teenage sprinter Delano Williams can be a "great".
Williams, 19, is set to compete for Britain at the World Championships next month after representing Turks and Caicos at junior level.
Bolt believes Williams can make an impact despite finishing last in the 200m at the Anniversary Games.
"I keep telling him that he is going to be great, though, because I can tell he is a fighter," said Bolt.
Williams, who has linked up with Bolt's Racers Track Club in Jamaica, is the world junior 200m champion.
His 200m personal best of 20.27 seconds, set this year, is faster than any Briton has run in five years.
But he finished ninth as Jamaica's Warren Weir stormed to victory in the 200m in a time of 19.89 at the Anniversary Games.
"He is young and has a long way to go and a lot of athletes to overtake," Bolt added.
"He pushes himself and he works hard. It is going to be interesting but he has a long way to go."
Williams was eligible to compete for Britain at London 2012 as Turks and Caicos does not have a National Olympic committee and so cannot send a team to the Games.
He competed at the British Olympic trials last summer, but injury meant he failed to win a place on the team.