World Athletics Championships 2013: Team GB's ones to watch
By Aimee Lewis
BBC Sport in Moscow
Last updated on .From the section Athletics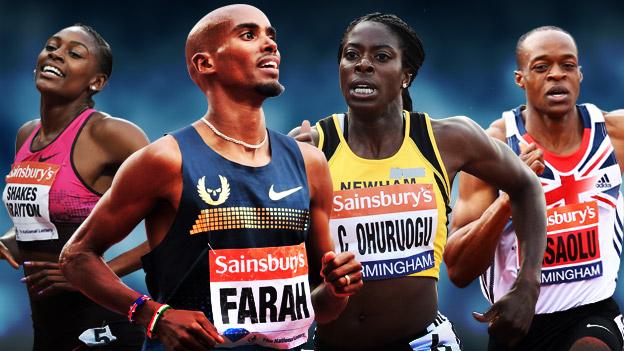 After the highs usually come the lows so they say, but can Britain's athletes buck that trend and maintain last summer's feel-good factor at the World Championships in Moscow?
Former world champion Colin Jackson picks the athletes he thinks will make an impact in Russia and 2009 bronze medallist Jenny Meadows - whose hopes of competing in the 800m were ended by injury - gives the lowdown on what Britain's medal contenders are like away from the limelight.
THE GOLDEN HOPES
Mo Farah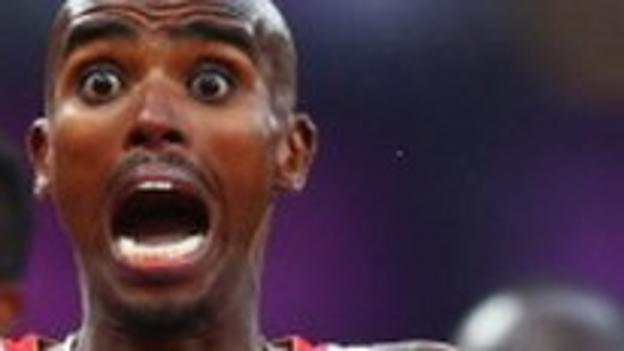 Event: Men's 5,000m and 10,000m
Season's form: What is there left to say? The 30-year-old captivated a nation when he won double Olympic gold at London 2012, a feat even Oasis guitarist Noel Gallagher described as "simply incredible". Farah has enjoyed an outstanding season, breaking Steve Cram's long-standing 1500m British record in July, and says he is a better athlete now than the one who, last summer, cemented his status as Britain's greatest distance runner.
Championship record: Farah, the reigning 5,000m and 10,000m Olympic champion, won 5,000m gold at the 2011 World Championships but had to settle for silver in the 10,000m.
Meadows on her team-mate: "I've known Mo since he was 12 years old and I now call him New Mo. The old Mo was mischievous and excitable, but since he started working with Alberto Salazar new Mo is a lot quieter, will often eat dinner alone and is always in the zone."
Jackson's verdict: "The Kenyans and Ethiopians will know Mo is the favourite. His levels of endurance have been spectacular this year. When I spoke to him I suggested he should start attacking world records, but he said it was all about medals, all about the victory."
Women's 4x400m relay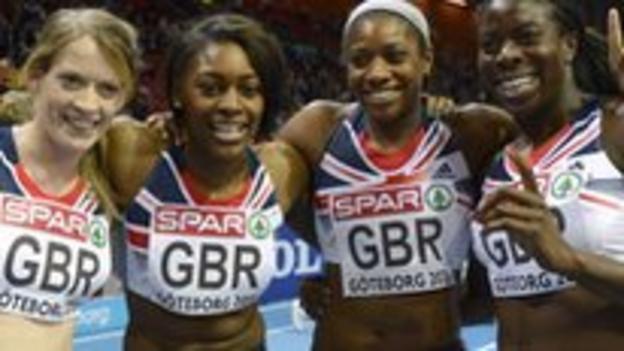 Season's form: Hopes are high for Britain. The quartet of Eilidh Child, Shana Cox, Christine Ohuruogu and Perri Shakes-Drayton won European indoor gold in a championship record in March and a month later, at the Penn Relays in Philadelphia, the same four equalled the third fastest time in British history, finishing two hundredths of a second behind the victorious United States team.
Championship record: The 4x400m women's relay team had been identified as a medal chance by former head of UK Athletics Charles van Commenee before London 2012, but finished fifth for a second consecutive Games. They missed out on the podium by a whisker in the last two World Championships, coming home in fourth.
Meadows on her team-mates: "During their training camp in Barcelona, they had three relay sessions and they were all competitive. They'll be spending a lot of time together, getting that camaraderie going, some will share a room and they'll all eat together."
Jackson's verdict: "It's been a long time since Britain has had such quality in the 400m relay. The USA, without Olympic champion Sanya Richards-Ross, are an ordinary team, as are Jamaica these days. It means we've got the beating of the countries who usually battle for gold."
THE MEDAL CONTENDERS
Christine Ohuruogu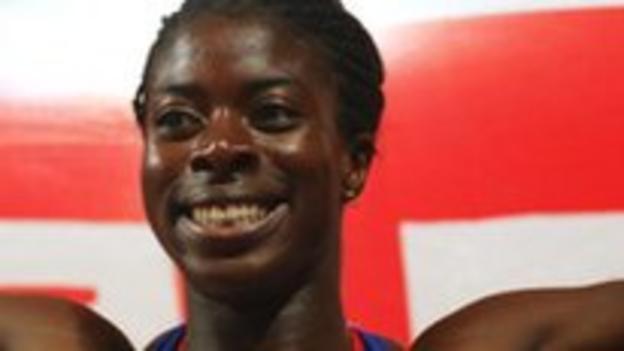 Event: Women's 400m and 4x400m relay
Season's form: The 29-year-old, chosen to captain Britain in Russia, has been described by Neil Black as one of Britain's "greatest ever athletes". The Londoner has a history of peaking at major championships and has been in great form, clocking 50.00 seconds to win her Diamond League race in London.
Championship record: The 2006 Commonwealth Champion became world champion in 2007 and followed that up with gold at the 2008 Olympic Games. She could not defend her Olympic title but did come away from London with a silver.
Meadows on her team-mate: "Christine is very quiet and you don't often see her in a big group, but she's always there if you need her. The good thing about Christine is that she's there for the younger ones and is very approachable."
Jackson's verdict: "Botswana's Amantle Montsho is by far the best in the world, setting a world leading time with a national record 49.33 run in Monaco. Montsho is world champion and her best is close to 49.00 and I'm not sure Christine has that turn of speed."
Perri Shakes-Drayton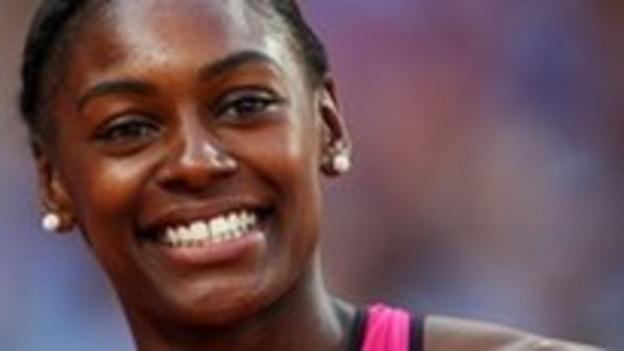 Event: Women's 400m hurdles and 4x400m relay
Season's form: The British champion's team-mate Eilidh Child has tipped Shakes-Drayton to be a world beater in Moscow and a glance at her achievements explain why. The 24-year-old won double European 400m gold at March's European Indoor Championships and hit her stride at the Anniversary Games, running the fastest 400m hurdles of her life.
Championship record: Shakes-Drayton's Olympic dream was ruined last year when, performing less than half a mile from her family home, she sustained a hamstring injury. The Londoner consequently missed out on a place in the final, just as she did at the 2011 World Championships.
Meadows on her team-mate: "What a girl. You can usually hear her before you can see her and you can never talk about Perri without mentioning her coach Chris Zah - they should have their own TV show because they're hilarious. Perri's professional but manages to have fun."
Jackson's verdict: "Is Perri a medal prospect? Yes. Is she a strong medal prospect? Definitely. But the Czech Republic's Zuzana Hejnova has won all eight of her races this year, beating Perri convincingly when they've raced, and has set a world leading time of 53.07secs."
James Dasaolu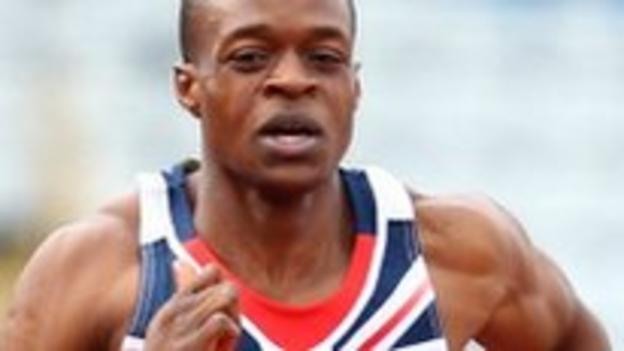 Event: Men's 100m and 4x100m relay
Season's form: The 25-year-old Londoner has struggled with injuries since taking up the sport seriously as an 18-year-old but has blossomed of late. In July he became the second fastest Briton in history when he covered 100m in 9.91 seconds and although he pulled out of the Anniversary Games with a hip problem, he insists he will be fit for the World Championships.
Championship record: Dasaolu said he did not do himself justice at last year's Olympics after clocking 10.18 to finish seventh in the second of three semi-finals. He has bounced back this year, though, winning 60m silver at the European Indoor Championships.
Meadows on her team-mate: "He's quiet, mild mannered and articulate. James doesn't spark up conversation but if you were to sit next to him and start chatting, you'd have a great time. He'll often be in his room playing computer games, making sure he's relaxed and ready."
Jackson's verdict: "If he repeats his 9.91 run then James will return with a medal. I'm really pleased that a British sprinter is in with a chance of winning a global title. It's been a while since I've been able to stay that."
Men's 4x100m relay: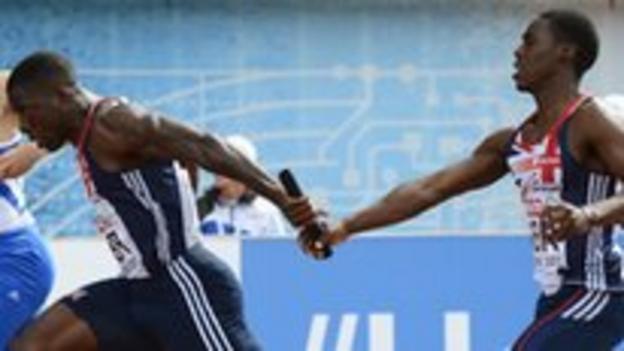 Season's form: A new-look British sprint relay team ran 38.39 seconds at the European Team Championships, the seventh-fastest time of 2013 (four of the top-six fastest time this year have been achieved by an American team). But a botched handover at the Anniversary Games serves as a warning to anyone getting too excited about Britain's prospects.
Championship record: It's a familiar tale, or perhaps a case of deja vu. Five of the last six major championships have ended in relay heartache for Britain, which means hopes of equalling or surpassing the bronze won at the 2009 World Championships could rest on whether the baton successfully makes its around the track.
Meadows on her team-mates: "The guys are very much aware of previous failings with the baton and feel the responsibility, even though some of them weren't involved. You'll always hear the men's sprint relay team on the track having a laugh and enjoying their sessions."
Jackson's verdict: "If they can get the baton around then they are capable of challenging for a medal. But even without Tyson Gay the Americans have four sprinters capable of running sub-10 seconds, which is a luxury Britain do not have, and then there are the Jamaicans."
THE FAMILIAR FACES
Dai Greene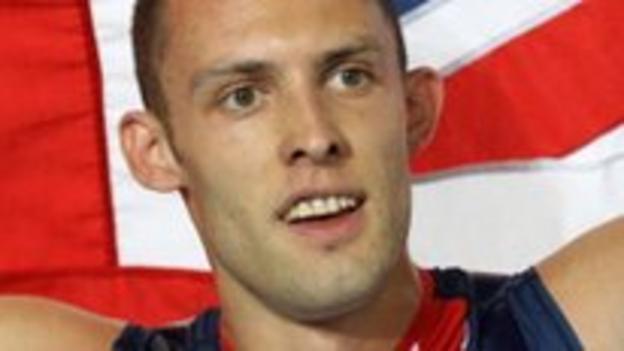 Event: Men's 400m hurdles and 4x400m relay
Season's form: Not many expect the Welshman to successfully defend his world title after an injury-hit season. The Swansea Harrier, who underwent a double hernia operation in March, has also suffered with illness and an inflamed Achilles. Under such circumstances it is unsurprising that his best this year of 48.66 seconds is only good enough for 12th in the world.
Championship record: In a golden two-year spell, Greene became Commonwealth, European and world champion between 2010 and 2011, but he could not add the Olympic title to the list after finishing fourth in London.
Meadows on her team-mate: "Dai's a perfectionist, very analytical. The disappointment of not winning a medal in London got him down but you wouldn't have known that because around the hotel you could see him up to mischief, sniggering. Off the track, he doesn't take himself too seriously."
Jackson's verdict: "If you're going into the World Championships not fully fit then you better not have expectations of becoming champion because it doesn't happen. Javier Culson from Puerta Rica, Trinidad's Gordon Jehue and America's Michael Tinsley are in tip-top shape so it's going to be very difficult for Dai."
Greg Rutherford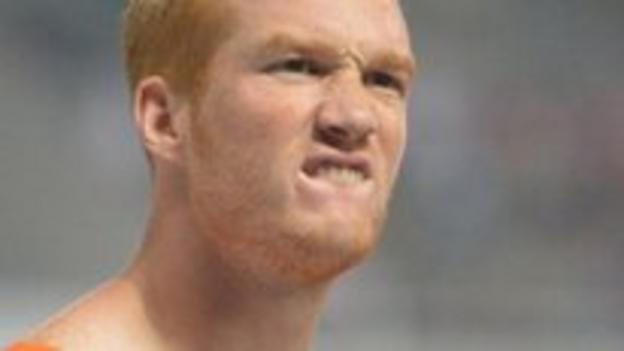 Event: Men's long jump
Season's form: The Olympic champion injured his hamstring at the Diamond League in Paris on 6 July but the man known for his powers of recovery has healed in time for Moscow. Before his latest injury, Rutherford produced a leap of 8.22m, which was only nine centimetres down on his gold medal-winning jump last year.
Championship record: Rutherford was taken to hospital with kidney and lung infections the day after the 2008 Olympic final and was forced to withdraw from the 2011 World Championships after injuring his hamstring in qualifying. But those woes are now merely footnotes after his achievements on that never-to-be forgotten Super Saturday in London.
What his team-mates say: "Greg is everyone's best mate, he's got time for everybody and is so loveable - he likes to call himself the Ginger Wizard. Him winning Olympic gold gives a message that good guys can do well."
Jackson's verdict: "I would have taken Chris Tomlinson over Greg because Chris is 100% injury free. If Greg was world number one returning from injury then it would be a different story, but why would you take someone who is only half fit when you've got someone who is fully fit jumping as far. It seems a bit of a risk."
THE OUTSIDE BETS
Tiffany Porter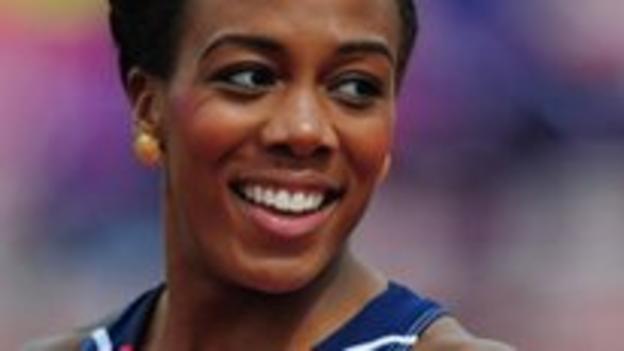 Event: Women's 100m hurdles
Season's form: Porter admitted she considered giving up the sport after a disappointing Olympics, but the 25-year-old, who has a PhD in pharmacology, says she wants to prove she is capable of competing with the best. She has been consistent this year, but her season's best of 12.65 seconds in July, at the Diamond League in Lausanne, was only good enough for fifth.
Championship record: The American-born Porter was tipped for a medal ahead of last year's Olympics but went to the Games with a back injury and missed out on the final. At the World Championships in Daegu, she clipped the penultimate hurdle and finished fourth.
Meadows on her team-mate: "Tiff is almost too nice. You'll always see her smiling at the start line and her hair is immaculate. You want Tiff to start to believing in herself and hopefully she can get inspired by others."
Jackson's verdict: "If Tiffany gets it right she is capable of sneaking into the top three because she usually gets a great start. It's her trail leg that usually lets her down. My favourite for the title is America's Dawn Harper, the 2008 Olympic gold medallist."
William Sharman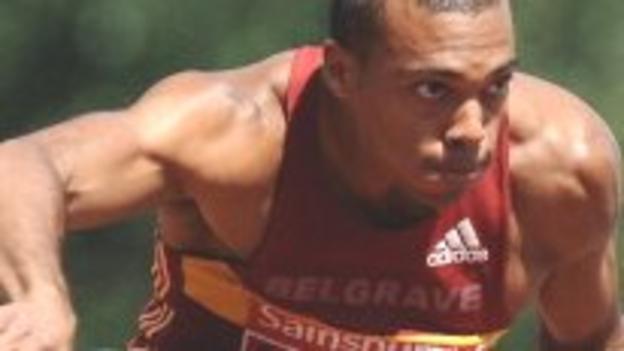 Event: Men's 110m hurdles
Season's form: Sharman, a classically trained pianist with an economics degree, has had his injury setbacks but the 28-year-old ran the fastest 110m hurdles of his life at the Anniversary Games, dipping home in 13.26 seconds.
Championship record: The hurdler did not make the British team for last year's Olympics but has performed well at previous major championships, bursting onto the scene with a fourth-placed finish at the 2009 World Championships and then fifth in Daegu two years later.
Meadows on her team-mates: "A couple of years ago, before his injuries, Will was a showman, he was confident but, then, when he wasn't running well you'd want to give him a hug and ask him where that chatty, confident personality had gone. He's a loveable rogue."
Jackson's verdict: "Russia's Sergey Shubeknov is a strong contender along with the usual suspects of American duo David Oliver and Aries Merritt, as well as Jamaica's Thomas Dwight. Will is technically good, he rarely makes mistakes so if all goes wrong around him he has the capability to hold it together."
THE BRIGHT YOUNG THINGS
Katarina Johnson-Thompson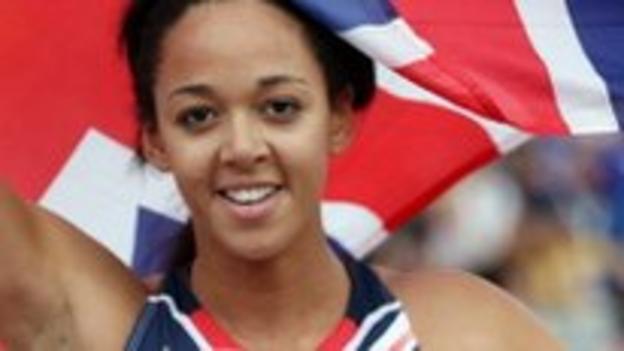 Event: Heptathlon
Season's form: The Liverpudlian thought her season was over when she tore ligaments on both sides of her ankle in May, but four weeks later she was back competing and crowned her comeback with gold at last month's European Under-23 Championships. The 20-year-old then returned to the Olympic Stadium and recorded a season's best 6.46m leap to win the long jump at the Anniversary Games.
Championship record: Johnson-Thompson, the world junior long jump champion and British junior heptathlon record holder, finished 15th on her Olympic debut last year with a personal best of 6,267 points.
Meadows on her team-mate: "She doesn't know how good she is. If you were to ask anyone in the team who'd they'd want to be, everyone would say they want Katarina's future. She has everything, she's definitely the 'It Girl'."
Jackson's verdict: "This is an opportunity for Katarina to break through. Jessica Ennis-Hill won't be in the picture so the focus will be on Katarina who is a naturally gifted jumper and runner."
Jess Judd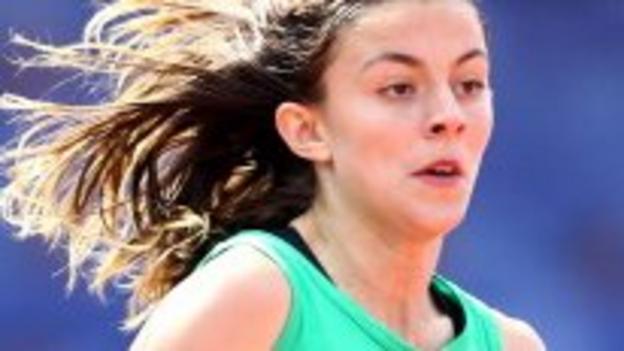 Event: Women's 800m
Season's form: The 18-year-old from Canvey Island made a winning start to her career as a senior international athlete at the European Team Championships. Seven days later, the A-level student ran a lifetime best one minute 59.85 seconds to win the Birmingham Diamond League.
Championship record: It was only last year that Judd went on an aeroplane for the first time. The destination was Barcelona, where she won silver at the World Junior Championships.
Meadows on her team-mate: "Jess has this endearing vulnerability. When she crosses the line, her arms will be aloft and she just shows her emotion. She's loving the attention and loving how well she's doing and it's refreshing."
Jackson's verdict: Jess will get beat up against such world-class opponents because it's a different level. What she will do is race well and that could be a problem for some of the experienced runners who don't want to run hard in the early rounds. She might sneak into the final, but if she goes out in the early rounds don't be surprised."
Adam Gemili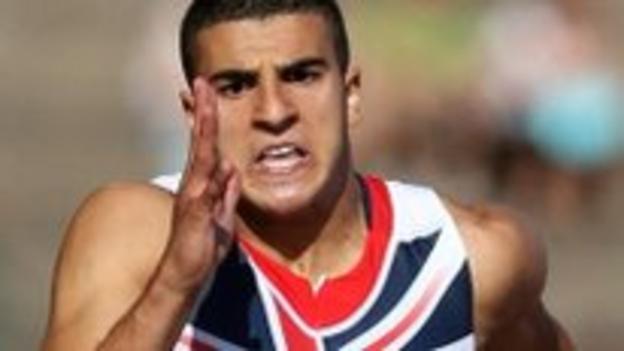 Event: Men's 200m
Season's form: The former Chelsea youth academy player won 100m gold at the European Under-23 Championships in July, but missed out on a place in the British team in that event for Moscow. The 19-year-old says competing in the 200m - where he has set a personal best 20.30 seconds this season - will benefit his career.
Championship record: The Blackheath and Bromley Harriers athlete switched from football to athletics full time in January 2012 and was quickly earmarked as one of Britain's great sprinting hopes after winning the 100m World Junior Championships. An Olympic debut soon followed where he finished third in his 100m semi-final in a time of 10.06.
Meadows on her team-mate: "He's always laughing and smiling and you can imagine him being up late in the lobby chatting and just enjoying the experience. He's very sociable. He'll be looking towards Rio in 2016 and sussing everything out."
Jackson's verdict: "I haven't seen Adam run many 200m races so it's hard for me to work out how he will prepare. He's going to have to run sub-21.00 in the early rounds to qualify so it's going to be difficult, but he will gain experience and I love the fact that the British sprinters are starting to double up."