Usain Bolt: Can teen Yoshihide Kiryu match the Jamaican great?
Last updated on .From the section Athletics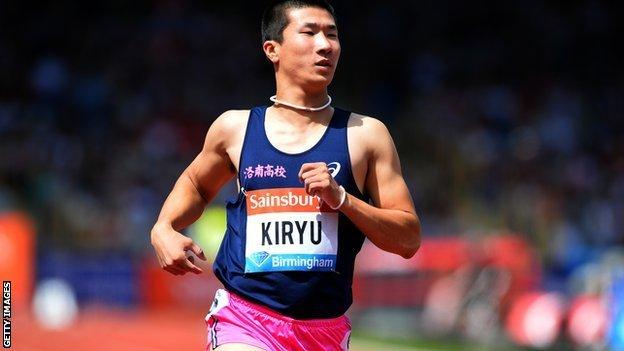 Yoshihide Kiryu did not look like the saviour of athletics' flagship event when he finished last in the 100m at Birmingham's Diamond League event in June.
In his first event outside his native Japan, the 17-year-old trailed home in 10.55 seconds, barely noticed by most of the crowd.
But unheard-of foreign schoolboys do not get to run alongside the world's best for experience.
He secured his invite because he is making headlines to rival a teenage Usain Bolt and is set to compete in the senior World Championships this weekend.
Back in April, Kiryu's run at the Oda Memorial event in Hiroshima caused the small crowd to gasp in astonishment.
At 10.01 seconds, his time matched the junior world record set by Trinidad's Darrel Brown 10 years previously.
Kiryu was only denied a share of Brown's record because the wrong sort of wind-measuring equipment was installed at the track.
The Kyoto schoolboy had already broken the youth world record for younger athletes, with runs of 10.19 and 10.21 seconds in late 2012. With another four months until his 18th birthday, he has another season as a junior to beat Brown's mark.
But the aim for the rest of this one is to mix it with the world's leading men.
And Jamaican superstar Bolt has welcomed the arrival of Kiryu in the senior ranks.
"It's great to see athletes stepping up from all around the world. It shows that anything is possible," said the six-time Olympic champion, who did not run the 100m as a junior.
"They say a great athlete comes along every decade."
Former Great Britain sprinter Darren Campbell, who won Olympic 200m silver eight years after second-placed finishes in the 100m and 200m at the 1992 World Junior Championships, offers a more cautious appraisal.
"It is a more difficult step mentally than physically," he told BBC Sport.
"When you stand on the line against established, experienced sprinters the little doubts go into your mind.
"You have gone from junior where you are winning every race to seniors, where you are fourth, fifth or, like Kiryu in Birmingham, last.
"You are not getting the wins you once were to boost your confidence."
The slender margins involved, and the physical power and unshakeable self-confidence required to be the best, make projecting senior 100m success from youthful promise a risky business.
Brown, the man whose time Kiryu matched in Hiroshima, is yet to improve on the silver medal he won as a 19-year-old in the senior 2003 World Championships.
British prospects Jason Gardener, Mark Lewis-Francis and Harry Aikines-Aryeetey all struggled to reproduce stellar junior results at senior level.
However, 2011 world champion Yohan Blake, double Olympic medallist Walter Dix and French national record-holder Christophe Lemaitre are some of the names among the junior stars who have gone on to greater things.
Reporter Kazushi Nagatsuka, who has covered Kiryu's career for the Japan Times, fears his compatriot could fall into the former camp.
"Japanese athletes are competitive against anyone in the world when they are younger," he told BBC Sport. "But as they get older, they falter and, in some sports, they can't even compete - mainly because of their size.
"Maybe they get worn down as well because they train so hard. They are often at schools like boot camps."
Certainly Kiryu is excelling in a discipline in which his country has not had much success.
His personal best of 10.01 was only one hundredth off Japan's national 100m record set by Koji Ito in 1998 and two hundredths off the Asian record set by Nigerian-born Qatari Samuel Francis in 2007.
Internationally, Japanese sprinters rarely reach major finals, with Shingo Suetsugu's 200m bronze medal in the 2003 World Championships a rare podium finish.
If Kiryu does break the 10-second barrier in Moscow, he would be the first man of Asian origin to join the 90 athletes who have achieved the landmark to date.
The commercial possibilities for any success would be staggering in a sport that has slipped in profile in Japan since the early nineties.
"Track athletics isn't usually mentioned in sports news in Japan. The marathon and ekiden [a type of long-distance relay race] are probably more popular than sprint events," adds Nagatsuka.
"But every time Kiryu runs, his races are shown on television and covered in the papers. He is becoming a household name among ordinary people, not just athletics fans."
If his times keep falling, it might be that seeing Kiryu finish last becomes the one result that everyone who was at Birmingham's Alexander Stadium in June remembers seeing after all.