Paul Pollock pleased with build-up to World Championships
Last updated on .From the section Athletics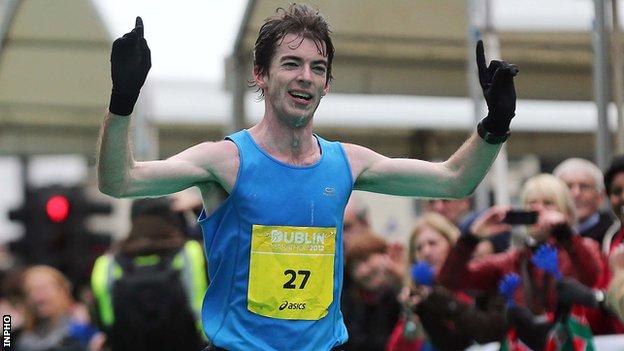 Holywood runner Paul Pollock admits his excitement is building ahead of his marathon challenge at the World Championships in Moscow.
With the men's marathon not taking place until 17 August, the 26-year-old will not travel to the Russian capital until next Tuesday.
"I can't wait to be honest," Pollock told BBC Sport Northern Ireland.
"Training has been going really well with no niggles. It's just a couple of more easy sessions from now on."
Tuesday was the junior doctor's final day of work at the Royal Victoria Hospital before starting a career break which essentially will begin with his World Championship challenge.
The Northern Ireland runner plans to take two years out from his medical career to see where he can progress with his running.
Pollock earned selection after bettering the B standard of two hours and 17 minutes when he clocked 2:16.30 in Dublin last October and while championship marathons tend to be slower than the big city races, it would not be a surprise to see him improving his personal best in Moscow.
Long-term and perhaps even medium term, Pollock believes that he will run under 2 hours and 10 minutes for the distance.
John Treacy remains the only Irishman ever to have run under 2:10, a record that amazingly dates back to 1984 and his 2:09:15 Olympic silver medal-winning run in Los Angeles.
Mark Carroll is the next fastest on the Irish all-time list at 2:10:54 - and even that is from more than 10 years ago.
"I don't see why I can't run sub-2:10. It's realistic and given a year or two, I would like to think I could do it.
"Moscow will be a championship race and will be a lot slower than one of the major city marathons, I would imagine.
"Hopefully, there will be a group there to stick with until the end.
"It's all about getting stuck in and making sure that I am in the right place."
But the first part of the jigsaw has been getting to the start-line in Moscow in a good place fitness-wise and Pollock appears to be on course to achieve that.
The county Down runner is part of a small 11-athlete Irish squad which also contains Donegal men Mark English and Brendan Boyce.
Walker Robert Heffernan is probably Ireland's only realistic medal hope in the 50K walk but there will be much interest in the performance of 20-year-old English.
The Letterkenny 800m runner made a huge breakthrough late last month when he ducked under 1:45 for the distance for the first time as he clocked 1:44.84 at the London Anniversary Games.
Olympic champion and world record holders David Rudisha is missing from the event because of injury and English can probably be regarded as an outside best to reach the final.
IRELAND TEAM FOR WORLD CHAMPIONSHIPS
Robert Heffernan and Brendan Boyce (50K walk), Brian Gregan (400m), Mark English and Paul Robinson (800m), Paul Pollock (marathon), Jennifer Carey (400m), Roseanne Galligan (800m), Tori Pena (pole vault), Laura Reynolds (20K walk), Maria McCambridge (marathon)