World Athletics 2013: Mo Farah intimidates his rivals - Cram

By Steve Cram
BBC athletics commentator in Moscow
Last updated on .From the section Athletics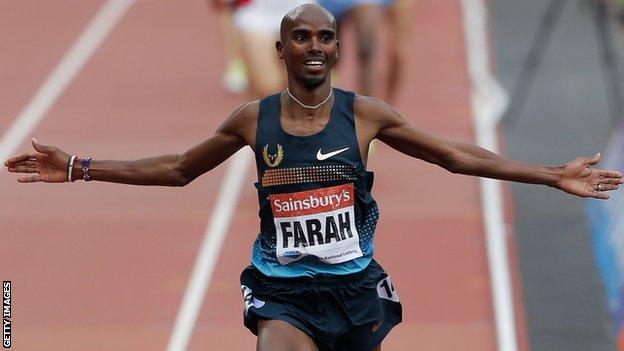 The World Championships in Moscow get under way on Saturday and double Olympic champion Mo Farah will begin his pursuit of a 5,000m and 10,000m double at 15:55 BST on the opening day, in the 10,000m. In his latest column for BBC Sport, former world 1500m champion Steve Cram discusses why Farah is favourite and assesses how the 30-year-old's rivals will try to topple Britain's leading man.
The wait is nearly over. Here we are in sunny Moscow, getting ready for the start of the World Championships and it shouldn't be too long until we can begin celebrating a British gold medal.
Britain should do well. There aren't many medal chances, but the ones we've got - Christine Ohuruogu (400m), the relay squads, Perri Shakes-Drayton (400m hurdles) - are solid ones.
The star performer, though, is going to be Mo Farah.
If anything, Mo is a better athlete this year than the one who won Olympic gold in the 5,000m and 10,000m 12 months ago.
His coach, Alberto Salazar, thinks so and Mo certainly couldn't have run 3:28 in the 1500m last year, like he did in Monaco to break my British record.
THE INTIMIDATING CHAMPION
Winning major championships not only gives an athlete confidence and a sense of belonging on the world stage, but it also affects your rivals.
He now intimidates other competitors, simply because of what he achieved in London. Usain Bolt does the same.
Just like Usain in the 100m, Mo will be standing at the start line knowing the others will be trying to come up with a game plan to beat him. That, in turn, means Mo's rivals won't be running to their own strengths and Mo has to use that to his advantage.
LEARNING FROM THE MISTAKES OF 2011
Mo was disappointed to lose out on 10,000m gold in Daegu two years ago, and especially at being outkicked by surprise winner, Ethiopian Ibrahim Jeilan, on the final lap.
He learned a lot from that race - to take nothing for granted and to do your homework on people. He kicked too hard too soon, gave Jeilan a chance, and had to settle for silver.
When he returned to the track for the 5,000m a few days later, he executed his race much better and won gold. That was the tipping point of his career.
From then, Mo became an athlete who was able to challenge for major titles. He had to learn a hard lesson in Daegu but hasn't repeated that mistake. Now, you wouldn't bet against him, whatever the race scenario.
TOO QUICK TO HANDLE
Mo will know that the last six or seven laps will be the crucial stage of the race.
Compared to the others in the field, he's got a lot of pace - but he had speed in 2011 and Jeilan still beat him. He was outkicked in the Eugene Diamond League meeting in June.
Mo didn't get it right in 2011 but the difference from Eugene to now is that Mo has more in the tank - he's stronger and more effective.
The only questions the others can ask is how strong they are, and how they can run a hard final 5,000m. I'm not sure whether there is anyone capable of posing those questions.
HOW TO TOPPLE MO
I don't know what they're going to try to do to beat Mo, but I know what they should do. However, that's easier said than done.
Mo will approach the race very much as he did the Olympic final. I don't think you'll see him upping the pace. There's no reason because he's so strong at the end of a race.
He'll cover the moves if and when they're made. There's enough quality in the field to ensure he can't just go to sleep and assume he can do it all in the last two laps.
In one sense, Mo's job is easier than the others because he doesn't have to do anything until the latter stages.
It's going to be warm, which means running flat out for 10,000m will be difficult, but that's the only way to put Mo under pressure.
He will only be tested if they push for a sub 27-minute race, sap him of his energy, tire him out before the final 600m and put him on the edge.
However, there aren't many people in the world capable of doing that - even at their best - and I'm not sure anyone in Saturday's race has that talent.
TALK OF BULLYING MO IS FANCIFUL
The talk of the Ethiopians and Kenyans - the likes of Dejen Gebremeskel, Abera Kuma, Imane Merga, Bedan Karoki, and others - working together against Mo is an interesting one.
It is a scenario which always gets talked about but rarely happens. It would be the best way for them to beat Mo, but to get athletes to do that in a major final is an entirely different matter.
Is someone going to sacrifice a medal to give their team-mate a better chance of winning? Athletes usually end up running for themselves.
We've got this quaint notion that somehow they're all going to gang up on Mo. If that happens on Saturday, it will be the first time I'll have seen it.