World Championships: Mark English misses out in 800m heats
Last updated on .From the section Athletics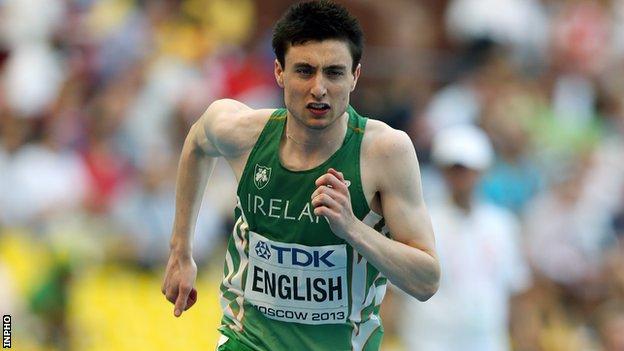 Letterkenny athlete Mark English suffered disappointment as as he exited from the 800 metres at the World Championships in the first-round heats.
English's finishing burst in Moscow was not enough to secure a top-three spot and automatic qualification.
His fourth place in heat four briefly left him in a fastest loser spot but a quicker following heat sealed his fate.
English, whose set a personal best of 1:44.84 recently, clocked 1:47.08 in Saturday's heat.
It was always going to be a tough ask for 20-year-old English given the presence of American medal contender Nick Symmonds and Qatar's Musaeb Abdulrahman in the qualifier.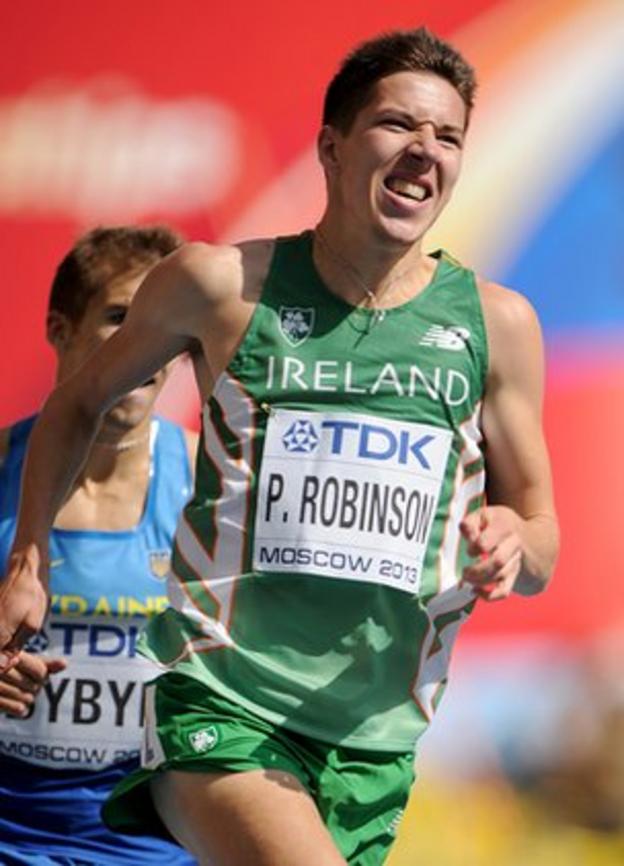 Symmonds duly took victory in 1:46.90 ahead of Abdulrahman and Morocco's Samir Jamma who both clocked 1:46.94.
"I am disappointed but I could not really have done much more. You do need a bit of luck but I just missed out," said English.
"I have loads of years left and I can take a positive out of the way I finished the race."
English, making his senior championships debut, appeared to leave himself with too much to do in the closing stages as he was unable to get on terms with the leading trio despite producing his fast finish.
The tactic of hanging back worked well in London two weeks ago as he picked his way past world-class athletes in the closing 200m but perhaps taking closer order over the opening 600m would have been wiser in this championship arena.
English will probably feel that he should have been capable of beating Moroccan Jamma whose personal best is 1:45.47.
Those behind English included Kenyan Jeremiah Mutai who surprisingly could only clock 1:50.17.
English's team-mate Paul Robinson also bowed out after finishing sixth in his heat in 1:48.61.
The Kildare man was not expected to progress from the tough heat despite ducking under 1:46 for the first time recently and France's Pierre-Ambroise Bosse (1:47.70), Poland's Marcin Lewandowski (1:47.83) and Italy's Giordano Benedetti (1:47.90) duly took the three qualifying spots.
In the women's marathon, Ireland's Maria McCambridge pulled out after eight kilometres.
Jennifer Carey did not progress in the 400 metres after finishing sixth in her heat but it was a creditable performance by the American-born athlete who blocked her second best ever time with a 52.62 clocking - .33 outside her personal best set earlier this season.g