World Athletics 2013: Discus thrower breaks nose in Moscow
Last updated on .From the section Athletics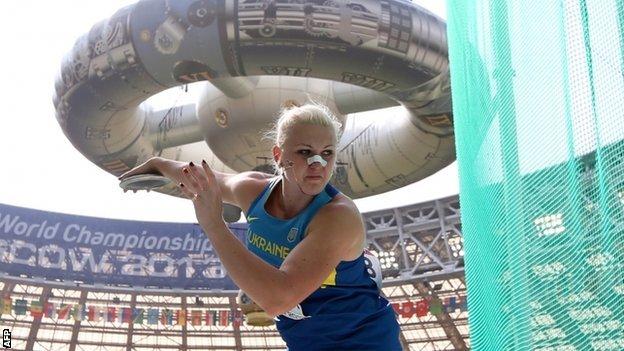 Natalia Semenova competed in the discus qualifying at the World Championships on Saturday despite suffering concussion and a broken nose.
She was accidentally hit by Poland's Zaneta Glanc who was miming a throw while sitting in the athletes' area.
The Ukrainian 2012 European Championship bronze medallist required two stitches and will now wait to find out if she requires surgery.
She finished bottom of her qualifying group after managing one legal throw.
"Coach asked me not to compete... but I had to throw to show my husband and parents watching on TV in Donetsk that I'm alive, feeling good and I'm the Iron Lady as usual," she said in a statement released by the Ukrainian team.
"I'm so sorry it happened to me today as I was in great shape and showed strong results in practice. I was sure I'd throw in the final."
The 31-year-old, sporting a dressing on the bridge of her nose, continued with qualifying but managed only 55.79 metres, well down on her season's best of 61.41, and short of the automatic qualifying mark of 63 metres needed to guarantee a place in the final.