Usain Bolt runs 9.77 seconds to win world 100m title in Moscow
By Aimee Lewis
BBC Sport in Moscow
Last updated on .From the section Athletics
Olympic champion Usain Bolt regained his 100m world title and won a fourth individual World Championships gold with a season's best of 9.77 seconds in Moscow.
The six-time Olympic champion overtook Justin Gatlin in the final stages, forcing the American to settle for silver in 9.85.
Bolt's compatriot Nesta Carter (9.95) claimed bronze, while Britain's James Dasaolu was eighth (10.21).
It was another convincing victory for the sport's brightest star, who demonstrated his superiority by equalling the eighth-fastest time of his career in unfavourable conditions.
Such is Bolt's dominance of the event, he does not have to be at his quickest to win major championships.
"I am happy but I wanted to do better," he told BBC Sport.
"My legs were sore after the semi-finals, I don't know why, but the world record wasn't on so I came out just to win.
"Back in Jamaica, they do not expect less than that from me. They always expect me to dominate!"
The sight of Bolt surging past his rivals is now a familiar one, as is his fooling around at the start line.
As the rain bounced off the Moscow track, he mimed holding an umbrella.
When the gun went, his reaction time of 0.163sec was equal to that of main rival Gatlin - and the pair were shoulder-to-shoulder before Bolt eased away.
Gatlin, who beat Bolt in Rome in June, said: "I'm very happy with my race. The last 30m I got long. In Rome I was able to... do my race, which I didn't do tonight.
"He (Bolt) has been working on his start. In Rome, he had the best reaction out of everybody and he is 6ft 5in. I had to make sure I was beating him to 50m."
Dasaolu, meanwhile, stood alongside Bolt in a major final for the first time. The Londoner, who finished last, admitted he had nothing left after clocking 9.97 in the semi-finals earlier on Sunday.
"I got to 50m or 60m but then they just started to run away from me," he said.
"I think the semi-final took it out of me, but I made it through three rounds and I'm happy that I'm injury free and I can continue with the rest of the season."
Perhaps the only disappointment of the evening was that the Luzhniki Stadium was not full for the championships' blue riband event.
Those who were there, however, saved their loudest cheers for the man charged with lifting the sport after a spate of failed drug tests, the most recent concerning Trinidad and Tobago sprinter Kelly-Ann Baptiste.
But neither the rain nor doping scandals could dampen the celebrations as Bolt, with flashbulbs lighting up the stadium, embarked on a jubilant lap of honour.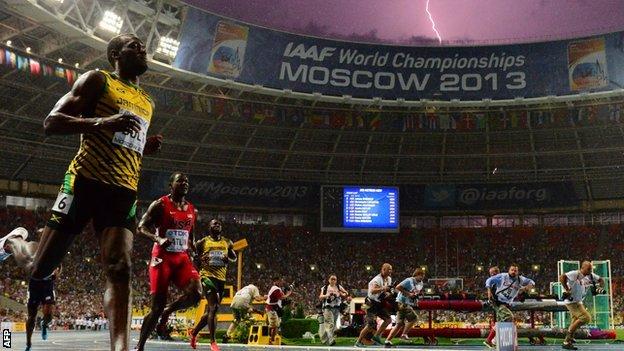 Moscow 2013 World 100m result
1. Usain Bolt (Jam) 9.77 seconds Gold
2. Justin Gatlin (US) 9.85 Silver
3. Nesta Carter (Jam) 9.95 Bronze
4. Kemar Bailey-Cole (Jam) 9.98
5. Nickel Ashmeade (Jam) 9.98
6. Mike Rodgers (US) 10.04
7. Christophe Lemaitre (Fra) 10.06
8. James Dasaolu (GB) 10.21