James Dasaolu needs gladiatorial mentality, says Donovan Bailey
Last updated on .From the section Athletics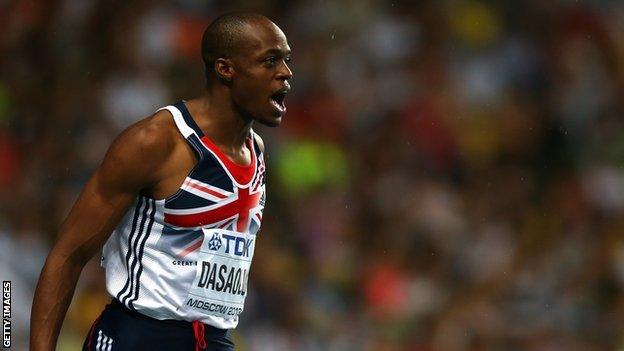 British sprinter James Dasaolu must adopt a "gladiatorial mentality" if he is to realise his potential, says double Olympic champion Donovan Bailey.
Dasaolu set 9.91 this year to become the second-fastest Briton of all time.
Bailey told BBC Radio 5 live: "He needs to understand the gladiatorial mentality and adopt that very quickly."
Dasalou, who arrived in Moscow as the fourth fastest in the world on paper, had been struggling with a tight hip flexor injury after recording his lifetime best at July's British Championships and had not been seen on a track competitively until he lined up for the 100m heats in Moscow.
The Briton scraped into the semi-finals as a fastest loser after easing up before the line and missing out on third place - which would have seen him qualify automatically.
However, he ran the second quickest time of his career in the semi-finals to become the first Briton since Marlon Devonish in 2007 to make the 100m final.
"James is one of the most talented sprinters on the track," added Bailey. "But listening to him talk, essentially I think he just settling for competition.
"As a 100m sprinter, you are a gladiator, the man among the boys. You are the one that shows up, you want to beat people and break records, you want to get out there and collect championship medals.
"James has to understand it is the marquee event. I guess he made the mistake of running 9.91 so everyone now knows who he is and he can't hide anywhere.
"Ultimately he can't have a defeatist attitude. His season is not over yet. There are a couple of Diamond League meetings left and I think he can actually go faster.
"He has to use the rest of the season to learn some more lessons about what it takes to be a champion. I think he will come back and run fast and make the podium at some point."
Dasaolu, whose British Championships record time has only been bettered, in British terms, by Linford Christie in 1993, admitted his preparations for the event had been less than ideal, but he remains positive about his future.
"I didn't have the best build-up so I was happy to make the final," said Dasalou. "Saturday was the first time I was running out of blocks since I ran 9.91, so it was always going to be tough.
"Hopefully, I would like to think I am going to make another final and then I can say 'I have been there' so I know what to expect and what to do in the heats, semi-finals and final. Hopefully, next time I will pick up a medal."
"If you look at my history I have had a lot of injuries, and for me this has been a breakthrough season running sub-10 seconds. But I am not going to run 9.91 every time in my first season.
"It is going to take a few more solid winters and hopefully in another year or two I can consistently run under the 10-second barrier."