World Athletics 2013: Steve Cram on winning gold 30 years ago

By Steve Cram
BBC athletics commentator
Last updated on .From the section Athletics
Thirty years ago in Helsinki, on 14 August 1983, a 23-year-old Steve Cram, racing against the likes of compatriot Steve Ovett and American Steve Scott, burst through in the final 200m to win the 1500m world title at the inaugural World Championships.
In his latest column, Cram remembers the intensity of competing during a golden age of athletics and the strange feeling of being the centre of attention after his victory.
An eagerly anticipated World Championships
There was excitement, a buzz, surrounding the championships and to understand why, it's important to remember the background to international athletics during that time. There had been a boycott of the 1976 Olympics by African nations, a boycott of the 1980 Games by the Americans and we knew the Russians weren't going to compete in Los Angeles in 1984, so this was the first global event for many athletes of that era where there was a full quota of countries.
A golden age for the sport
There was also the Carl Lewis factor, this was his first major championship and everyone wanted to see him.
We were performing in a wonderful stadium, which was sold out for most sessions, and athletics was a huge global sport, more so than now. We were on the back pages, on television advertising various things, and I'd agreed to do a documentary for TV so I had a camera crew following me everywhere.
There had also been various spats leading up to it, which I won't bore anyone with, but it added to the intensity of the interest. Let's just say athletics was big news.
We were competing during a period of utopia, because it wasn't until a few years later that things started to change with the Ben Johnson doping scandal in 1988.
The rivals for 1500m gold
Seb Coe had withdrawn, but Steve Ovett - who was 800m Olympic champion at the time - was there, as was Steve Scott, who had recently missed out on the world record in the Oslo Mile, and there was this guy called Said Aouita.
The Moroccan was new to the scene, but had run the second fastest 1500m in the world that year.
None of us had ever raced against him so the final was a mix of the familiar and the new, with a bunch of others who also had the ability to be there or thereabouts. I hadn't had a good build-up to the championships because of injury, but before going to Finland I ran an 800m at Gateshead and beat Seb so that gave me confidence. I knew I was in good nick.
A slow, nervy first lap
I was surprised by how slow we'd started. When you stand on the start line you're nervous, you just want to get on with it. But when the gun goes and everyone sets off at a canter, it's a bit unusual. We jogged the first lap slower than the women did in their final so I stayed at the back of the field, which is often the best place to be when the pace is that slow.
I just hovered at the back, watching what was going on. In those situations you get nervous; you just want things to get going because you're not sure where you should place yourself in the pack. But even though I was as anxious as everyone else, I was still reasonably calm because I knew it was going to be a race over the last 700m.
The intrigue of tactics and game plans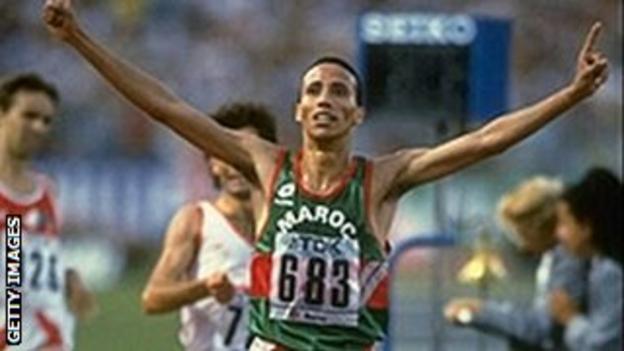 It's important to have a lot of confidence in the first couple of laps when things are moving slowly. You can't panic or get involved in any pushing or shoving because you don't want to get boxed in when the race gets going. The 1500m in a championship final can be intriguing, and that's why I love it.
It's not about the time because in a slow race anyone can win, even the world record holder can get beaten, and the 1983 final was a perfect example of a slow, tactical race.
Brendan Foster played quite a role before the final because he had heard through a colleague of his what Aouita was planning to do. You hear rumours like that during a major championships, but what Brendan said had planted a seed.
The final push for gold
I knew if Aouita was to beat all three of us - me, Ovett and Scott - he was going to go hard from 600m out, which played into my hands. He led us out and I clung onto his coattails, as it were, and kicked with 200m to go. You try to second guess what the others are going to do during a race.
I'd raced against Ovett and Scott many times so I knew what their strengths were, but I wasn't sure what Aouita was going to do, which is why the information Brendan gave me was invaluable.
The overwhelming welcome home
I stayed in Finland for a few days, just to have some time to myself because there was a lot of furore surrounding the victory. The race was shown live back home and the championships were watched by about 15m people every night. It's hard to explain how truly overwhelming the reaction was.
When I arrived at the airport I had to do a news conference because there were so many TV crews and journalists waiting.
Eventually, I managed to leave the airport and drove home but, then, about half a mile from the house I had to get out of the car and walk because there were hundreds of people there to greet me with bunting and flags.
I was living with my mum and dad at the time and even the house was packed with people. I stuck it out for about half an hour; it was about 10.30pm and the only thing I could think of doing was to go for a run.
I just had to get away, it was too weird. I think I intimated to the press who were waiting outside that I was going to be a while so they'd gone by the time I got back.
Thirty years on from Helsinki
The World Championships were originally every four years so inevitably people used to get more excited in the early days, but since the 1990s they've been held every two years and that's good for the sport because there's a stepping stone between Olympics.
The World Championships are still highly significant because the sport only has two global competitions. We've had some good ones, and some bad ones. Some have been less than inspiring for many reasons, such as the location and crowd support.
It doesn't surprise me that not many tickets have been sold in Moscow because big events aren't held there, it's not a Diamond League venue, and Russian athletics is going through a difficult time with lots of doping issues. Moscow is also a big cosmopolitan city so maybe athletics just isn't on people's agenda.
Steve Cram was talking to BBC Sport's Aimee Lewis in Moscow.