Jemma Simpson sets sights on 2014 comeback
Last updated on .From the section Athletics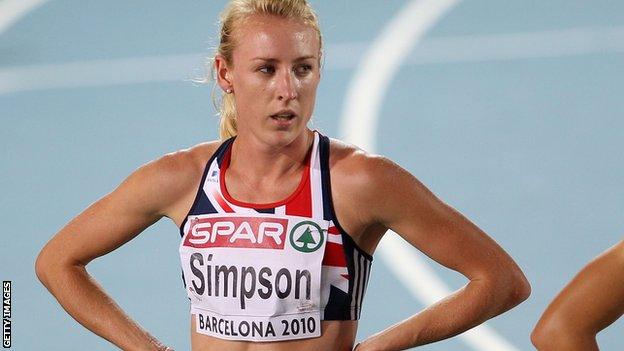 Cornwall athlete Jemma Simpson is plotting a return to elite-level competition in 2014 after taking a break from the sport.
Simpson has kept to a light schedule this year but has set her sights on the European Championships, Commonwealth Games and, possibly, the World Indoors.
"I want it to be a competitive year for me," she told BBC Radio Cornwall.
"I want to get fit so I can handle it and really go for it, especially in the Commonwealths and the Europeans."
The 800m and 1500m specialist added: "Because I had a bit of a break this year I might try to work my way up to doing the World Indoors as well."
The 29-year-old controversially missed out on selection for the 2012 Olympic Games, and said the disappointment may spur her on to the 2016 Games in Rio.
"Missing out on 2012 was a huge disappointment and will always be a big down point of my career," she said.
"Luckily I went to the Olympic Games in Beijing so I did experience the Olympics and I can always call myself an Olympian and there's Rio in a few years time and I will try to aim for that if I'm still going."
Simpson lives and trains in the United States with her partner, former World Championship silver medallist Chris Thompson.
"We're really happy over there but we are thinking about coming back and spending more time in the UK," she said.
"When you're a full-time athlete your life is running, eating, sleeping, resting and you follow that pattern for a long period of time.
"That's the routine we're in over in the US - we're not able to be like tourists, we really have to live the athlete's lifestyle.
"The main thing is about recovery. If you don't recover from the training you're doing, you don't absorb it.
"That's one of the problems I was having this year, I had to keep having breaks."