World Athletics 2013: 50km walk gold for Ireland's Rob Heffernan
Last updated on .From the section Athletics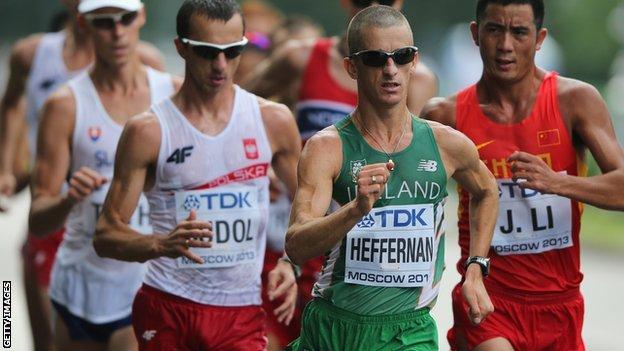 Rob Heffernan won the 50km walk in Moscow to give Ireland their first World Athletics Championships gold in 18 years.
The 35-year-old beat Russia's Mikhail Ryzhov, 32, to claim his country's third-ever world gold and first since Sonia O'Sullivan's 5,000m win in 1995.
The Cork athlete's time of three hours 37 minutes and 56 seconds was the world's fastest this year.
"It's hard to take it all in at the moment. I'm delighted," he said.
"I wanted to go to Moscow and take on the Russians in Moscow and that's what I did. I'm very proud that an Irish man can come to Russia and beat them in walking.
"It's surreal, it's just a great feeling," added father-of-two Heffernan, who was embraced after the race by his wife Marian, who represented Ireland in the 4x400m relay at last year's Olympics.
"When I came into the stadium it just felt like an out-of-body experience."
Heffernan, who finished fourth at London 2012, produced his fastest 5km between the 35-40km mark and never looked in danger of being caught as he clinched his first medal at a major championships.
He was with the leading pack at the halfway point and pulled clear of Ryzhov (3:38:58) at 40km, winning by 62 seconds, with Australia's two-time Olympic silver medallist Jared Tallent (3:40:03) taking bronze.
However Heffernan was close to missing out when he was issued with a second yellow card warning in the closing stages, one away from disqualification.
His winning time was two seconds slower than his personal best set at the London Olympics.
Heffernan had to withdraw from the 2011 World Championships in Daegu after the sudden death of his mother.
That was a year after his fourth places in both the 20K and 50K events at the European Championships in Barcelona.
Eamonn Coghlan won 5,000m gold for Ireland in the inaugural World Championships in Helsinki in 1983, before O'Sullivan won the 5,000m in Gothenburg 18 years ago.
Ireland's last two medals at the World Championships - silvers for Gillian O'Sullivan and Olive Loughnane, in Paris in 2003 and Berlin in 2009 respectively - have also come in race-walking.
Heffernan's team-mate Brendan Boyce finished 25th in Wednesday's race in a new personal best of 3:54:24.