Moscow memories: Empty seats and a muted atmosphere
By Aimee Lewis
BBC Sport in Moscow
Last updated on .From the section Athletics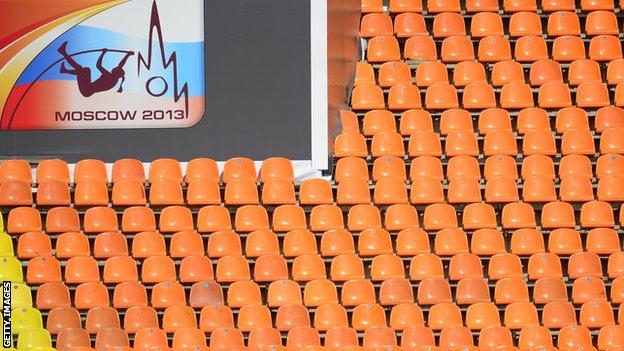 There is a tale which will cause those who have attended the World Championships in Moscow to giggle in recognition.
It is the one about the long jumper who attempted to encourage the crowd in the Luzhniki Stadium to clap, only for a lone voice to bellow back: "You'll be lucky, there's no-one here".
Aside from the incredible feats of Britain's Mo Farah, the quip by the Englishman - one of the few in attendance on Wednesday morning - sums up what the championships will largely be remembered for: empty seats and a muted atmosphere.
One could argue the Muscovites were hungover or hoarse from the night before when 32,000 fans, the biggest crowd of the championships, cheered and roared Yelena Isinbayeva's vaults and celebratory backflips, creating a din not experienced before or since.
By winning her third pole vault world title, Russia's most celebrated athlete had added pizzazz to the biggest track and field event held in her country for 30 years. For many, though, the memory of a truly joyful night was soured by the inflamed words uttered by the 31-year-old world champion in support of her country's anti-gay laws.
And so, in two days, we went from a high to a low in a nine-day competition which already needed a spin doctor of some skill to ensure people left the Russian capital remembering what happened on the track rather than the negatives off it.
"Yeah, I noticed," said Jamaica's Usain Bolt of the rows of empty seats for Sunday's 100m final. Even the world's fastest man could not pack them in and Britain's 400m world champion Christine Ohuruogu spoke for many when she said: "You see the stands, which I must say were pretty empty, and it made me miss London all the more."
Ah, yes, London 2012, when weaving through a river of humanity en route to the Olympic Stadium was the daily norm whatever the session. When demand outstripped supply, leaving the likes of Alan and Marjorie Tomlinson, grandparents of British hammer thrower Sophie Hitchon, unable to join the 80,000 spectators watching their granddaughter compete at her home Olympics.
For Moscow 2013, the 22-year-old Hitchon could have invited half the population of her hometown Burnley, had organisers not reduced the stadium's capacity. Discounting the 16,000 seats reserved for media, athletes and VIPs there is room for 35,000 spectators.
"London was something special," Alan Tomlinson tells BBC Sport. "We couldn't get tickets for London so at least we can get tickets here.
"Our experience has been largely positive, the metro is efficient and we've been allowed to take pictures and film inside the stadium, which hasn't always been the case when we've gone to athletics events.
"And I don't think the British athletes have any complaints. They are staying in a nice hotel, where there's a spa and shops nearby. The only time there have been grumblings is the food - but that's just a cultural thing."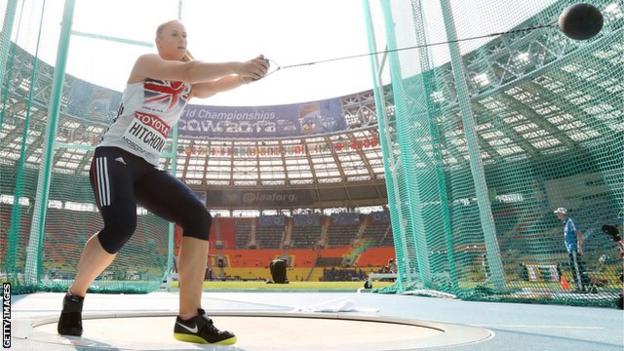 The Tomlinsons were found perched on one of the monuments commemorating the 1980 Olympic Games. Sometimes a stroll around the stadium's picturesque grounds, taking in the sculptures and statues and perfectly manicured flower beds, is more akin to visiting a grand, historic National Trust house. The sound of footsteps on gravel accentuating a peculiar hush not often associated with a major sporting event.
Thankfully, there are the Ukrainians at nearly every session, wearing yellow or blue t-shirts and even bigger smiles, creating as much of a hullabaloo as around a thousand fans can.
That is not to say the Russians have lost their voices, they are just more particular about whom and what they cheer. For the Isinbayevas of this world and their medal contenders, they can come close to the wall of sound created at last year's Olympics.
But expecting Moscow to match London was unrealistic and criticising it for not doing so is perhaps unfair.
"We've been spoiled because the Olympic Stadium in London was packed every single day," two-time world champion Colin Jackson told BBC Sport. "People thought 'this is what athletics is about' but that's not always the case."
Russia lies second behind the US in the all-time athletics medal table. Indeed, with a total of 11 top-three finishes so far, they are the second most successful country at these championships, but that does not mean the sport has captured the heart of a nation where ice hockey and football reign supreme.
It has been reported that Russia's state television channel, Rossiya One, led its news bulletin with a sports story on Monday, but it was not athletics. Instead, a victory for the Russian women's epee team at the World Fencing Championships in Budapest stole the headlines.
"It's just not that big a sport in Russia," explains Jackson. "It's like the US. They're successful nations but track and field is low on the agenda.
"Generally, for the big crowds you've got to go to the countries which have an athletics history, like Germany for example. Stuttgart in 1993 was really busy."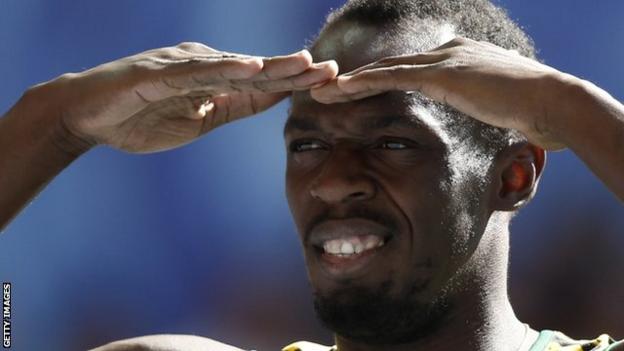 Sergei Bubka, the great Ukrainian pole vaulter now running for presidency of the International Olympic Committee (IOC), has blamed the sunshine for keeping the Russians away, while a taxi driver explained that Muscovites abandoned the city in August for their rural retreats.
Maybe some would have postponed their holidays had they known the World Championships would be held on their doorstep.
Four months prior to the start of the championships, Lamine Diack, president of the International Association of Athletics Federations (IAAF) criticised the Russian government for not promoting the year's biggest athletics competition.
Russian news agency RIA Novosti then reported of a "wide-ranging promotional blitz" to boost ticket sales, while in May the local organising committee published Spikes magazine in Russian.
But for a promotional blitz, the billboards and posters are well hidden. The count for giant advertising boards adorning the face of Bolt, the most recognisable athlete on the planet, currently stands at two whereas October's World Combat Games in St Petersburg has been well advertised.
Even front windows of sports shops have not associated themselves with the championships.
In Red Square, the sight of 400m world champion LaShawn Merritt hurrying along the cobbles was the only hint to an international athletics event taking place just a few kilometres away. Visitors, though, would leave fully aware that next month, a stone's throw away from St Basil's Cathedral, the city will be hosting an international military music festival, bagpipes and all.
It is difficult to sell an event to a city of 11 million inhabitants when a buzz has not been created around it, even if tickets are being given away or sold for as little as 100 rubles (£2), making it affordable for ordinary Russians in a notoriously expensive city.
Former 1500m world champion Steve Cram is not surprised by a low turnout given that no Diamond League meetings are held in the country and 44 Russian athletes were suspended this year for failing drugs tests. He has even suggested the championships should be shortened.
In the first four days of competition, an average of 12,000 spectators attended morning sessions with average attendance increasing to 32,000 for the evening sessions. The final weekend is expected to be a sell-out, with the schedule of one session a day and a combined total of 13 finals perhaps proving a greater lure.
Organisers, though, have admitted they are on a steep learning curve. "We just do not have experience of holding major athletics events," said Tatyana Lebedeva, a former Olympic women's long jump champion and now vice-president of the Russian Athletics Federation. "There are lots of things we do not know. We are learning and learning with pleasure."
Perhaps lessons have been learned in time for a show-stopping final weekend which will compensate for some of the gloomier headlines. Or maybe we will just have to wait to see whether there will be greater warmth for next year's Winter Olympics in Sochi.
Some have suggested the World Championships is an early examination for the country before the bigger events which will come their way, from next year's Winter Olympics to the 2018 World Cup. If that is the case, the report would read: Could do better.