Chris Tomlinson defends criticism of Greg Rutherford selection
Last updated on .From the section Athletics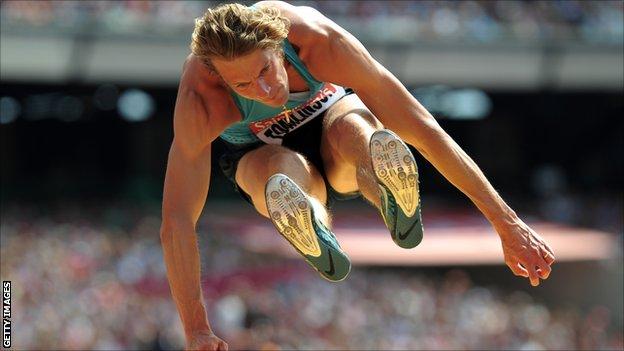 Long jumper Chris Tomlinson has defended his criticism of Greg Rutherford's selection for the Great Britain 2013 World Championships squad.
Rutherford, who had been struggling with a hamstring injury, failed to jump eight metres at the Luzhniki Stadium.
"I feel I had to come off the fence here," Tomlinson told BBC Tees.
"Greg was selected ahead of me, and I felt, in terms of form and fitness, he wasn't going to be in competitive shape with the ruptured hamstring. Unfortunately I was proved correct."
Both athletes failed to jump the A-standard distance of 8.25m in their qualification period, despite being given a two-week extension by performance director Neil Black, and the pair also possessed similar records going into the Championships.
Rutherford described his call-up as "a no brainer", maintaining a better head-to-head record, while Tomlinson was convinced by his own credentials.
"I've got to be careful what I say but I felt I'd gone to the three As competitions and won them," said Tomlinson. "I'd beaten Greg in our last competition and our personal bests are the same.
"If you discard the fourth of August [at the Olympics] - where he won the Games and I came sixth - there wasn't a huge difference in general athletics development or progress.
"I was concerned the Olympics were going to play a massive part in the decision. Of course you're going to take the Olympic champion over someone who hasn't won but finished fifth in one and sixth in the other.
"However, if the Olympic champion has a ruptured hamstring, hasn't trained for four or five weeks and has lost form and fitness, it was always going to be a difficult call."