World Athletics 2013: Isinbayeva speaks out against homosexuality
Last updated on .From the section Athletics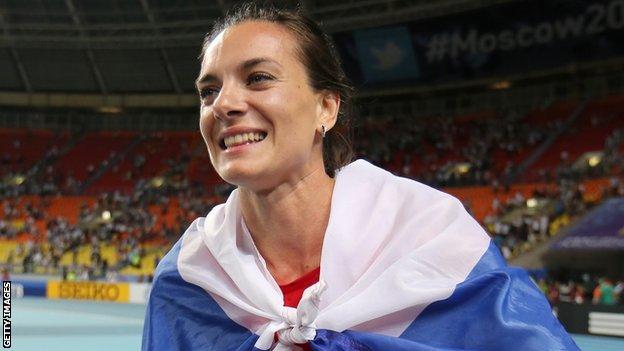 World pole vault champion Yelena Isinbayeva has spoken out against homosexuality amid protests over new laws in her native Russia.
She criticised athletes who painted nails in support of gays and lesbians.
"We are very afraid about our nation because we consider ourselves normal, standard people," said Isinbayeva.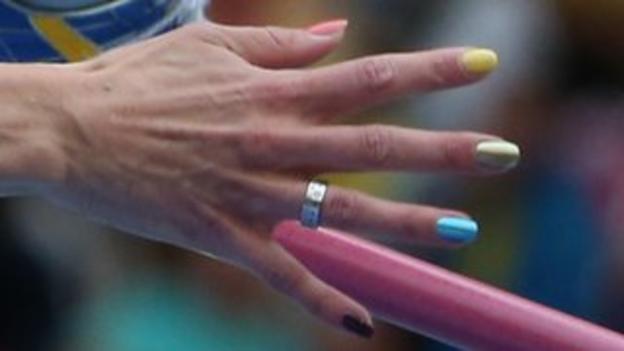 The 31-year-old poster girl of Russian athletics - with two Olympic golds and 28 world records alongside her World Championships successes - is hugely popular in her home country.
And she expressed what she believed was her nation's position on homosexuality: "We just live with boys with women, women with boys.
"Everything must be fine. It comes from history. We never had these problems in Russia, and we don't want to have any in the future," added Isinbayeva, after winning her third world title on Tuesday.
Swedish high jumper Emma Green-Tregaro painted her fingernails in the colours of the rainbow flag for Thursday's qualifying competition at the World Championships in Moscow.
"I wouldn't say it was a protest - more of a statement of what I think," said the 28-year-old.
"I usually do my nails in something that feels good for me and it was a simple way of showing what I think."
Swedish sprinter Moa Hjelmer also painted her nails.
Isinbayeva, whose image has been selling the Championships to Muscovites in much the same way Jessica Ennis-Hill promoted London 2012, added: "Everyone can participate, everyone can compete, but of course if they will promote sexual relations outside in the street it won't be respectable for a lot of our citizens because we are all, from inside of us, against it.
"We are against publicity but we are not of course about every choice of every single person. It's their life, it's their choice, it's their feelings, but we're just against the publicity in our country and I support that.
"We are Russians. Maybe we are different than European people, than other people from different lands. We have our law which everyone has to respect. It's my opinion also."
The law was passed in June and prescribes heavy fines for anyone providing information about homosexuality to people under the age of 18.
US athlete Nick Symmonds, who dedicated his 800m silver to gay and lesbian friends to highlight Russia's new legislation, told BBC Radio 5 live: "It blows my mind that such a young, well-travelled, educated woman would be so far behind the times.
"For most athletes from my generation it's not an issue, for the most part we believe in equality.
"I really wanted to compete with a rainbow sticker but it was suggested if I pushed it too far there was a serious possibility I'd go to prison.
"Serious injustices need to be pointed out. I came out here to win a medal but if I can bring this important subject some attention, that's something I'd like to do."
BBC pundits Denise Lewis and Michael Johnson were equally critical of Isinbayeva's stance.
Lewis said: "She is clearly not in touch with the rest of the world. I'm surprised her management didn't advise her to be a little more cautious with throwing her views out there. This is clearly very damning for her as a global superstar."
And former US track star Johnson told BBC Sport: "She is very popular over here with a small group of people who are very powerful and who probably buy into that view in this country. It is very flawed judgement and a very flawed opinion."
The legislation has caused concern across the world although both David Cameron and Barack Obama are against boycotting the Winter Olympics, with Obama saying it would be "inappropriate".
The head of the International Olympic Committee Jacques Rogge has also asked Russia to explain how its new law on gay "propaganda" might affect next year's Games.
Moscow's Luzhniki Stadium has attracted only small crowds this week - except when Isinbayeva competed on Tuesday.
Former GB athlete and BBC expert Jonathan Edwards told BBC Radio 5 live many Russians would back their favourite sporting daughter.
"She's a product of a society in which she lives," said Edwards. "Over 90% of the population would endorse what Isinbayeva said, however abhorrent we find it in the UK.
"In my lifetime it was illegal in the UK so the whole world is on a journey here. I don't think a boycott of Sochi would be the right way to do it.
"But if the athletes of the world show solidarity with the world's gay community I think that would be the most powerful message we could give."