Yelena Isinbayeva: Youth Olympic role should be reviewed
By Richard Conway
BBC Sport
Last updated on .From the section Athletics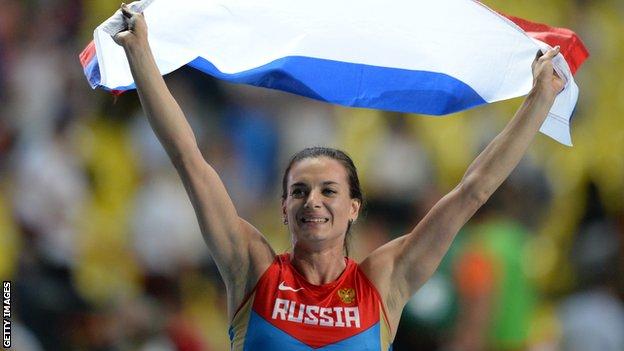 Yelena Isinbayeva's role as a Youth Olympics ambassador should be reviewed says British heptathlete Louise Hazel after the world pole vault champion spoke out against homosexuality.
Russian Isinbayeva criticised athletes competing at the World Championships in Moscow for supporting gay rights.
She also defended a controversial Russian law that makes it illegal to promote homosexuality to under-18s.
Hazel said: "The International Olympic Committee should revise her position."
The 2010 Commonwealth Games champion said it was important for the IOC to act and added that Isinbayeva's views had left her disappointed and in "deep shock".
"It should be their first point of call after the championships are over," continued the 27-year-old Briton, who competed at the London 2012 Olympics.
Isinbayeva, who has now won the world title three times to add to her two Olympic successes, claimed Russian people did not want to see homosexuality promoted in their country.
The 31-year-old told reporters on Thursday: "We just live with boys with women, women with boys.
"We never had these problems in Russia and we don't want to have any in the future."
While defending the new law that prescribes heavy fines for those promoting homosexuality, she insisted: "It's their life, it's their choice, it's their feelings, but we're just against the publicity in our country and I support that."
Hazel said Isinbayeva was "being outwardly homophobic".
"It's the 21st century and obviously Russia has been very outwardly spoken about homosexuality," said Hazel.
"It seems the issue has been brushed under the carpet up until now
"I think it's really important that there's a review of what she's said and that the IOC really look and question whether that is in line with their values and their beliefs."
Isinbayeva, a sporting icon in Russia who has set 28 world records, was appointed as Youth Olympics ambassador in 2010 by IOC president Jacques Rogge.
"We have a true champion in Yelena, a true role model for young people," said Rogge at the time.
However, Hazel believes Isinbayeva's comments have undermined her position.
"A role model is somebody we can look to for inspiration and also to imitate," said Hazel.
"You're not supposed to exclude anyone and that's what she's done in making these comments.
"I would be worried if my children or the next generation of athletes were looking to Yelena Isinbayeva and thinking that these comments are acceptable. Quite simply, I don't think they are.
"They're sending the message that discrimination is OK and it quite clearly is not in this day and age."
"I just don't feel that it's in keeping with the spirit of sport in general and the all-encompassing, all inclusive values of the Olympic Games."