Mo Farah is Britain's greatest ever athlete - Brendan Foster
By Aimee Lewis
BBC Sport in Moscow
Last updated on .From the section Athletics
Mo Farah became only the second man in history to complete an Olympic and world 'double-double' in the distance events when he won the 5,000m final in Moscow.
The 30-year-old held on in a thrilling finish to add the 5,000m title to the 10,000m gold he won on Saturday.
BBC Sport athletics commentators Steve Cram and Brendan Foster assess the race, what makes Farah so good and ask whether he is the greatest British athlete of all time.
Olympic 10,000m medallist Brendan Foster
Mo Farah winning his third World Championship gold medal, adding to his two Olympic and numerous European titles, makes him the greatest athlete we've had for Great Britain.
Seb Coe and Daley Thompson are the other two in competition for that accolade. You would have said last year that Daley was the best we've ever had, but I think Mo is now the best ever.
The fact he's a distance runner doing it makes this a magical time in my life. I've enjoyed watching Mo because I've known him since he was a kid.
He changed his life to achieve his dreams and when you see him finishing like that you see that he's quicker, more confident and more determined than the rest.
It's fantastic to see Mo being so dominant and I'm so happy to be commentating on him. I interviewed him the other day and asked him to give the British public some advice on what they should do when watching the final. All he said was 'chill out and have a cup of tea'.
Steve Cram and I sat at the start of commentary, took his advice, and had a cup of tea, but I didn't chill out. I was nervous because he's a young man who wears his heart on the sleeve.
Generous and thoughtful
He's the loveliest person I know. He's honest, generous and thoughtful and even in his post-race interview, he thanked everyone, including his PE teacher Alan Watkinson. Mo wanted to be a footballer but he said, 'Mo you're not a bad footballer, but you're a better runner'. That teacher was right; he's a hell of a runner.
Teachers like Alan Watkinson are the heroes of British sport, the ones who say 'you can be good at this' and Mo's thank you goes out to all the PE teachers in the country. Mo is such a determined guy - we were nervous at the start, but during the race the other athletes were playing into his hands.
No-one had a master plan. They ran pathetic 61-second laps and Mo was happy to let them go and when they slowed down he could cruise back into contention. When Mo catches them with two laps of 64 or 65 seconds, he is fresher.
You needed a car to get past him
Everything they did played into Mo's favour and it ended up as an 800m race. What you have to do in a 800m race is control it and not make a bad move, so he went to the front and every time anybody came at him, his plan was to just hold them off.
None of them were brave enough to run hard and you can see how determined he was in the home straight.
You needed a car to get past him; you wouldn't have gone past him running. Once you win you become accustomed to winning. He knows he's going to win and the others would like to win - it's confidence versus hope, and that's the difference."
1983 world 1500m champion Steve Cram
Mo is creating his own legacy. I don't really want to get into arguments about whether he is the greatest British athlete because that's the sort of discussions you have at the end of someone's career.
But I want to see more of Mo. I want to see Mo winning, I want to see him running fast - possibly breaking world records - and I can't wait to see him in the London Marathon next April. Long may all this success continue.
He could run the Marathon in London and focus on the track in the summer for the Commonwealth Games. Let's hope he does because seeing Mo in Glasgow would be brilliant.
When Paula Radcliffe started running marathons in 2002 and 2003, the training for that improved her performances on the track. Her 10,000m at the European Championships in 2003 was phenomenal so there's no reason why Mo can't also do both the road and track.
Preparing against complacency
I did my best to convince myself that he would get beaten on Friday and I did that for a reason. As an athlete, complacency is your biggest enemy and I was a bit nervous that we were talking about Mo becoming the greatest. We were opening a big trap door and were in danger of falling in.
But, having said that, whatever race scenario I tried to imagine would unfold, I just couldn't see Mo getting beaten, which meant I wasn't nervous at all for him.
For selfish reasons, the more the race went on the more I wanted someone to challenge him, for someone to have a go. That was just because I wanted a different race to commentate on because we're so used to seeing Mo win by going ahead in the last 600m. Instead, what we got was the 'Mo Show' again and I'm delighted with that.
A backroom team fit for a great
There were athletes competing in that 5,000m final who have real ability, more so than the guys who ran in the 10,000m final last Saturday.
Unlike Mo, however, the others aren't given the best opportunities to perform at their best.
Britain has invested in those working behind the scenes, on those who affect the small things - particularly the science and medicine side - and that has resulted in us winning many medals at Olympic Games.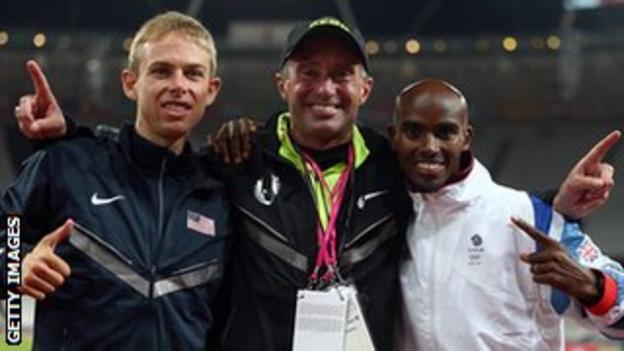 Yes, Mo is training hard. Yes, he's got a good coach - but are the others sleeping in altitude tents? Are they bringing generators with them? Do they have ice baths? Are they looking after the little things?
If they're lucky they'll have an agent or manager who does a bit of that, but it becomes a different matter when they're in the international set-up.
There have been examples of that lack of support during these championships when, for example, the Kenyan team left a marathon runner asleep in her bed at the airport. How could they not know she was not on the plane?
They haven't got an athlete with the stature of a Kenenisa Bekele or a Haile Gebrselassie to demand that attention to detail. The result is that these talented athletes are not coming to the track as well prepared as Mo and until something changes then Mo is going to continue to dominate.
Mo the cheeky so and so
Mo used to be the team's 'jack the lad'. In his younger days he was a mischievous, cheeky little so and so. He was a laugh and certainly wasn't as focused as he is now.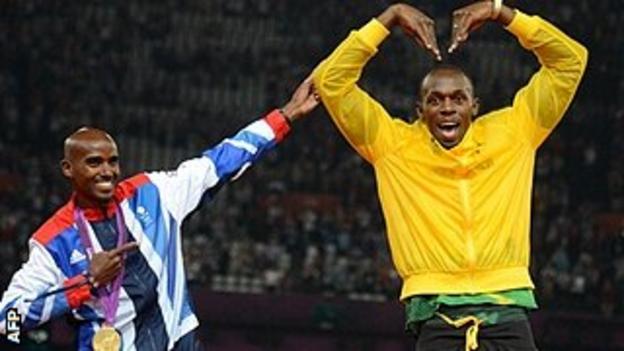 That has changed because you can't go around the team hotel cracking jokes when you know people are looking up to you, watching your every move.
Mo's attention to detail, his focus, probably means that side of his personality isn't on display as much as it used to be, but I spent the afternoon with him at the start of the season - he cooked a barbecue - and he was the same old Mo.
It was the day after he had been beaten in Eugene so he was a bit down, but we had a great pool competition at his house. He was full of banter, trying to put me off my game, but he didn't manage it, of course, because I beat him 3-2.
Even in Monaco he was winding me up something rotten about my 1500m British record, pretending he didn't know what the record was when I knew full well he had it in his sights.
Mo has still got that character but you're not going to see it as much because there are cameras everywhere, people watching, and he's aware of that.