World Athletics 2013: Great Britain win two bronze medals in Moscow
Last updated on .From the section Athletics
Great Britain won two medals in the space of 20 minutes as Tiffany Porter added 100m hurdles bronze to the women's 4x400m relay third place.
Porter won Britain's first ever 100m hurdles World Championship medal in a personal best time of 12.55 seconds.
Eilidh Child, Shana Cox, Margaret Adeoye and Christine Ohuruogu held off France to seal third in the relay in a time of three minutes, 22.61 seconds.
Teenager Adam Gemili finished fifth in a 200m final won by Usain Bolt.
The two medals took Britain's total for the Championships to five with one day of competition remaining at Moscow's Luzhniki Stadium.
The women's 4x400m relay team were left as bystanders over the first leg of their final as the United States powered into what seemed to be an unassailable lead.
Cox had Russia within her sights on the second leg as she powered around the final 200m to give GB a chance of a silver medal.
However, the Russian quartet had other ideas and moved away from the United States and Britain on the third leg.
Individual 400m champion Christine Ohuruogu pulled away from the French challenger in the last 150m, lapping in 49.60 seconds - the joint best split time in the event - to secure the bronze medal.
Antonina Krivoshapka held off Francina McCrory in the last 50m to hand Russia gold ahead of the United States.
The squad had to make do without the presence of Perri Shakes-Drayton, the second fastest Briton over 400m this year, after the hurdler returned home because of a knee injury.
Ohuruogu, 29, told BBC Sport: "I really am proud of the team. They all turn up, show up and do exactly what's asked of them, they're phenomenal athletes."
Adeoye added: "I'm over the moon, I was very happy to take up the opportunity to run with these great athletes. This was the first time and I felt a bit of pressure, so I just ran for it.
Child, who finished fifth in the 400m hurdles, added: "I'm just delighted to have won a medal and to go home with a medal just sums this team up."
Just 15 minutes after the 4x400m success, Britain were celebrating again as Porter, who only reached the semi-finals of the same event at London 2012, put her Olympics disappointment behind her to collect another medal for the team.
The 25 year-old missed out on breaking Jessica Ennis' British record of 12.54 seconds but her time of 12.55 was good enough for bronze.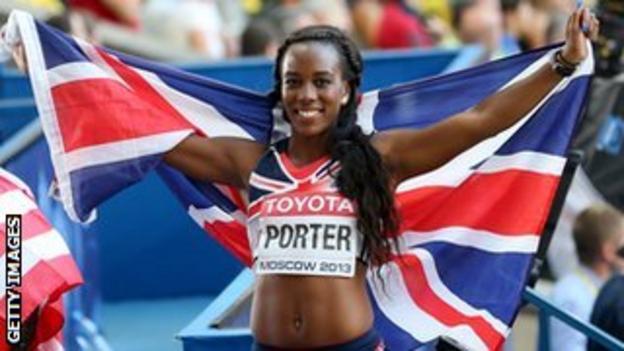 "I am just so happy to come out with a personal best and a medal for GB," Porter said.
"With the hurdles anything can happen and I just believed in myself. I knew I could be competitive and to come out with a medal, I am so pleased."
The United States' Brianna Rollins made a terrible start but took gold in 12.44 ahead of 2011 champion Sally Pearson.
Gemili, who is only the second British 200m athlete to run under 20.00 seconds, got off to a great start, but Bolt once again sped to victory and his third consecutive gold medal in the event.
"What an experience, my first senior final and I loved it," the 19-year-old told BBC Sport.
"There are no words to describe how I am feeling. I knew I would be in the mix but I've only just missed out on a medal," Gemili added.
WORLD CHAMPIONSHIPS MEDAL TABLE TOP 10
Russia

15 (7 gold, 3 silver, 5 bronze)

United States

20 (6 gold, 11 silver, 3 bronze)

Jamaica

7 (4 gold, 2 silver, 1 bronze)

Kenya

10 (3 gold, 4 silver, 3 bronze)

Ethiopia

10 (3 gold, 3 silver, 4 bronze)

Germany

6 (3 gold, 2 silver, 1 bronze)

Great Britain & NI

5 (3 gold, 0 silver, 2 bronze)

Czech Republic

3 (2 gold, 0 silver, 1 bronze)

Ukraine

3 (2 gold, 0 silver, 1 bronze)

Poland

3 (1 gold, 2 silver, 0 bronze)