World Athletics 2013: Adam Gemili makes mark on global stage
By Aimee Lewis
BBC Sport in Moscow
Last updated on .From the section Athletics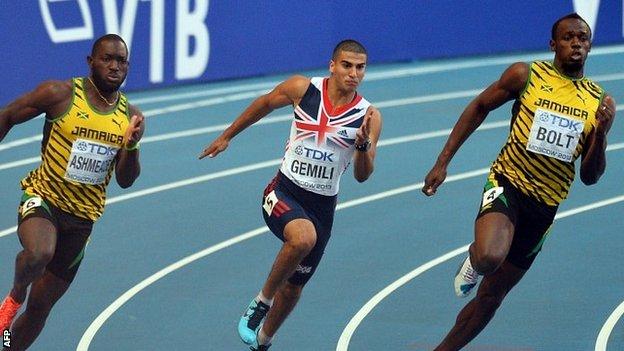 British teenager Adam Gemili has the mental toughness to win medals at the highest level and is ready to run "spectacular" times, says double Olympic champion Donovan Bailey.
The 19-year-old, competing in his first major final, finished fifth in the 200m at the World Championships in Moscow.
"I've been really impressed by Adam," Bailey told BBC Sport.
"When you come to championships and shine, it means you're ready and not afraid of competing at this level."
Gemili's personal best over 200m prior to the championships was 20.30 seconds, a mark he has twice surpassed during a breakthrough week in Russia. On Friday, he became only the second Briton to dip under 20 seconds over the distance by qualifying second-fastest for the final in 19.98.
But it is over 100m - a distance in which Gemili is European Under-23 and world junior champion - that Bailey believes the Briton is ready to excel.
Indeed, the former 100m world record holder said the teenager should have been allowed to compete over the distance in Moscow.
"The future looks bright for him. The rhythm of the 200m is different to the 100m and right now he is ready to run extremely fast in the 100m," added the Canadian. "He should try to run the 100m over the next month or so because he's ready to run fast. His 100m is going to be spectacular.
"At the Anniversary Games I thought he was ready to run sub-10 seconds and I still think he's ready to do so. Health wise, I thought Adam was the best British sprinter coming into the championships and, yes, he should have been selected to run the 100m.
"He definitely understands what professional track and field is about. In the sprints, you have eight guys lining up, eight physical specimens, and more often than not the only thing that separates them is mental strength.
"He was up against the best in the world and didn't back down and he ran the bend exactly how he was supposed to."
Bailey went on to warn James Dasaolu, the second-fastest Briton in history over 100m, that his compatriot Gemili could be a serious threat to his status as Britain's premier sprinter in the blue ribband event.
"James is definitely more talented, his talent is limitless, he could run 9.8, but if he doesn't watch out Adam is going to take that crown quickly," said Bailey.
It is the potential battle between 25-year-old Dasaolu, who was eighth in the 100m final last Sunday, and Gemili which excites two-time world champion Colin Jackson.
"I want Adam to take a lot of confidence from the way he has performed in these championships and tell himself that he's a world class sprinter," the Welshman told BBC Sport.
"And I'd like to see Adam and James compete against each other on many occasions in both the 100m and 200m because developing a rivalry will help them both improve their speed.
"Going head-to-head against each other will make a huge difference because they'll know they won't be able to mess about, whatever the competition."
Usain Bolt, the man who retained his 200m world title and took his tally of World Championship gold medals to seven, described Gemili's performances in the Russian capital as "outstanding".
"I am still in shock he actually made the finals," said the 100m and 200m world record holder. "I have never seen him run a 200m ever. I know him as a 100m runner so the fact that he came out and made a final, for me, that's a plus.
"In this first final, especially in the 200m, that is just outstanding."
John Regis, who won world silver in 1993, believes Gemili will break his 19-year-old 200m British record of 19.87.
He told BBC Sport: "To run sub-20 at the age of 19 - I know my British record will be gone to this guy. If he breaks it, I'll be the first to stand up and congratulate him."
Regis's record dates back to 31 July, 1994 in Sestriere, Italy, when Gemili was just 10 months old.
For Gemili, the teenager who only took up the sport a year and a half ago after switching allegiances from football to athletics, the experience of competing against six-time Olympic champion Bolt had made him determined to try to emulate the Jamaican.
"I was introduced just after and the whole stadium pretty much erupted, I was like 'one day hopefully I'll be in that position'," said the Briton who reduced his personal best by 0.32 at the championships.
"Hopefully as I get older and a bit stronger I'll be up there getting a medal in future years."