Adam Gemili: Winning medals my aim, not setting records
Last updated on .From the section Athletics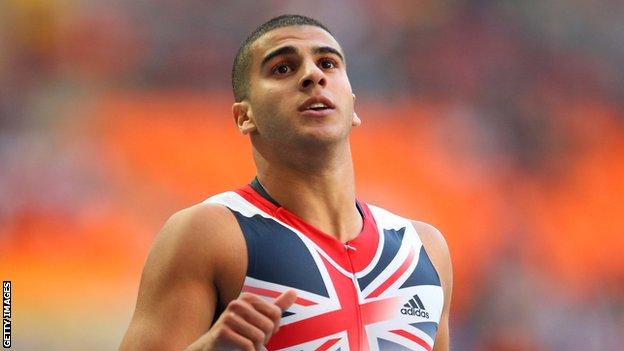 Sprinter Adam Gemili says winning medals in his career is more important than setting records.
He told BBC Radio Kent: "To go under 20 seconds and be the second Brit to ever do so is an amazing feeling.
"It would be nice to run a British record but it's not a main aim. My main aim is to go to championships, perform well and try and win medals."
The Blackheath and Bromley Harriers athlete ran a time of 19.98 seconds in his 200m semi-final heat in Moscow.
That time puts him behind British record holder John Regis, who clocked 19.87 seconds in Italy in 1994.
"I was in good shape going into it after quite a few injuries this year," Gemili added.
"The times I had run had not been a true reflection of the work I had been doing.
"It felt quick but didn't realise it was myself that ran that time. I looked up to the big screen and they kept showing my face.
"My name came up and I couldn't believe it. It was crazy and I couldn't stop smiling."
Gemili went on to finish fifth in the 200m final but he says the experience he has gained from the Championships will benefit him in the long term.
"I was more looking at executing a race than getting a medal," he said.
"I'm still new to the sport and the guys I was running against are very experienced and know how to perform on the day.
"I just wanted to put myself in the mix. If I had executed my race a bit better I could have got a medal.
"I started tightening up and fighting and the American [Curtis Mitchell] came through to take third when we were all pretty much level.
"It's a big learning experience for me and I can take it through to future championships and get better and better.
"I can't wait until I get older, stronger and a bit mentally stronger and what I'll be able to run."
Before the World Championships in Russia, the Dartford-based athlete spoke of his desire to compete over both 100m and 200m in the future.
Gemili is the reigning European Under-23 and world junior champion over 100m and double Olympic champion Donovan Bailey has tipped him for a bright future, saying his 100m "is going to be spectacular".
The former footballer hopes he will be able to run the double at next year's European Championships, which will be held in Zurich, Switzerland.
"There are very quick Europeans over the 200, but I might even try and do the 100 as well," Gemili said.
"The reason I did the 200 this year was to be able to have the experience at a Championships. I can take that through to future championships and hopefully double up in the 100 and 200 at the same championships.
"[In Moscow] I was exhausted just doing the 200. It takes a lot of hard work and effort to do it but I see no reason why not."
Meanwhile Gemili says Great Britain's failure in the 4x100m relay was down to a risk-taking strategy in order to boost their medal prospects.
The team finished in third place but were disqualified after an appeal was lodged against their second changeover.
"We have always been up there with the best of the world, considering we haven't got four guys who run under 10 seconds like the Jamaicans and the Americans," he said.
"We're more focused on getting the baton through the box as quickly as possible.
"We take risks and unfortunately it didn't pay off in Moscow. I literally had no clue.
"It was like a movie; we were about to walk out the doors [for the presentation] and a guy stepped in front of us and said 'guys, you've been disqualified'.
"We were literally 10 metres from the podium. It was heartbreaking because we had come so far and it wasn't to be.
"It would have been a great way to end the championships - with my first senior medal.
"I am not going to get too down on it as I know that when we get it right we can be in contention. Hopefully I have got many more championships to come and many more medals to win."