Perri Shakes-Drayton: British hurdler to have knee surgery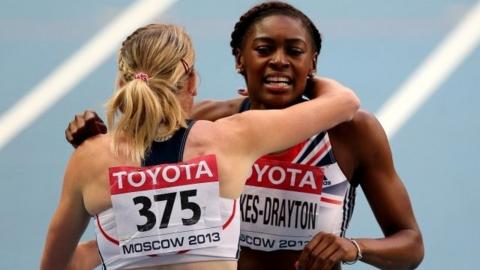 Britain's Perri Shakes-Drayton is to have surgery after injuring her knee during the 400m hurdles final at the World Championships in Moscow.
The 2010 European bronze medallist, 24, said she felt her knee "wobble" during the race. After hitting two hurdles, she eventually finished seventh.
Tests have revealed she has cartilage damage and a torn cruciate ligament.
British Athletics performance chief Neil Black said: "I'm in no doubt she'll be back in top form, next year."
Shakes-Drayton withdrew from the women's 4x400m squad after the hurdles final and flew home.
Black added: "Perri is working closely with the British Athletics medical team whose focus is very much to get her back into racing as soon as possible.
"She has had an incredible season, and it was a major disappointment for her that she suffered this injury in her first global final."
The London athlete, who won European Indoor 400m gold in Gothenburg this year, was one of the favourites for a medal in Moscow having clocked the second fastest qualifying time in the semi-finals.
Her agent Jonathan Marks said: "Perri is bitterly upset to have come away from Moscow without a medal and instead with a season-ending injury which she will have to undergo surgery on.
"We were surprised by comments from some sections of the media regarding the reasons for her performance in the final before the full extent of her injury was revealed - not least given Perri's success in both the indoor and outdoor seasons in 2013 and two personal bests in qualifying which made the pain of the final all the more hard to swallow.
"She was clearly in shock post-race and given the seriousness of the injury it was incredible she actually got round the track."