Christine Ohuruogu: No more tears for world champion
Last updated on .From the section Athletics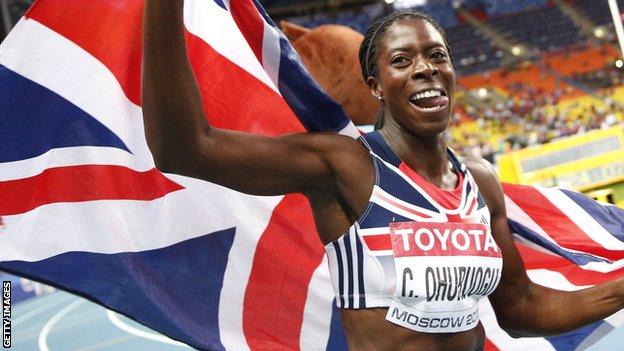 Let's go back to the morning after the night before. The day Christine Ohuruogu could not stop crying.
Not even 24 hours have elapsed since Ohuruogu won 400m gold at the World Championships in Moscow with the latest of late surges, a race won by the tip of her nose, or four thousandths of a second to be precise.
Ohuruogu is at the luxurious Marriott hotel in Moscow talking to British journalists about her incredible victory and the Londoner is smiling and laughing, talking of "life being too good to be true" and explaining how a willingness to "fight for everything" helped her secure gold.
An hour or so goes by and the Briton is holding it together, still fighting, still battling, although it is with her emotions this time, rather than her rivals.
The finishing straight is approaching and Ohuruogu can be found in the corner of the hotel's rooftop terrace, where former Olympic gold medallist Denise Lewis is conducting the final interview, one which would be broadcast on the BBC later that day.
Then the camera stops rolling, the lights go out. The talking is over and the tears flow.
A month on since that day in the Russian capital, Ohuruogu admits her emotions are, finally, under control.
"I'm done, I'm finished crying, I'm back to my stone-faced Christine," the 29-year-old tells BBC Sport, just about managing to end the sentence before guffawing.
"I do cry a lot. I'm really ashamed to say that because I have this tough exterior, but I'm always crying. It doesn't add up.
"I can't remember what Denise said but when someone like Denise Lewis is really proud of what you've achieved, it touches a nerve.
"It was really special to have someone of her calibre being really gracious about what I achieved. Sometimes, when you get acceptance, it hits you and you don't know what to do with yourself. I spent the whole day crying."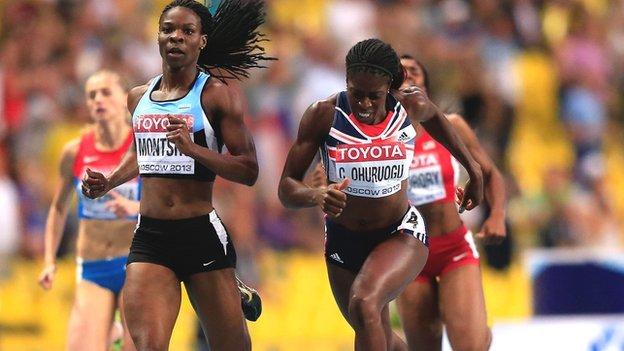 Perhaps the kind words uttered by Lewis affected Ohuruogu more than it would most because the self-described shy girl from Stratford does not chase recognition or adulation.
Ohuruogu, Britain's captain for last month's World Championships, is a popular team-mate and admired by those who have achieved great feats in the British vest, but forgoes the glitzy lifestyle easily accessible to Britain's most successful female athlete.
Former 1500m world champion Steve Cram said last month that Ohuruogu, an Olympic gold and silver medallist and now owner of two World Championship gold medals, did not receive "the credit or the respect" she deserved.
One reason for that is probably easy to explain. When London won the Olympic bid, Ohuruogu was picked as the face of a Games which was to be held in a borough where the athlete, the daughter of Nigerian immigrants, was brought up.
But in September 2006, Ohuruogu received a year ban for missing three different out-of-competition drug tests and, with her reputation tainted, the duty of adorning London 2012 posters fell to Jessica Ennis-Hill.
The Sun newspaper even proclaimed "we can't let Ohuruogu be face of 2012", although it was the young Ohuruogu's giddiness, rather than a sinister desire to deceive, which was the reason for those missed tests.
Ohuruogu is often asked whether she feels she receives the recognition she deserves from the British media and its public, but struggles to understand why the question crops up with such regularity.
"We're athletes; we're not pop stars. We don't thrive on public recognition," she says. "My job is to run around a track a fast as I can and that's independent of outside influences. It's not something that bothers me too much.
"And I'm not too sure how to rate recognition. People who meet me are very happy to see me; they always congratulate me and ask for photos.
"It's not really for me to judge. I'm not looking for it. Maybe if I was a musician I could rate it on album sales, but I'm not.
"My philosophy has always been to go out and do my job and hopefully inspire people. When I was a kid I loved being inspired and, in turn, I'm just passing on that torch.
"I love my life as it is. I love that it's very simple - not manic, not crazy. I have a big family - my youngest brother is five - and it's really important that I spend time with them.
"If my life was any other way I don't think I'd be able to manage it, I'm scatter-brained enough as it is without adding more to the mix."
It is rare to see Ohuruogu the sports personality on our TV screens, although she was a guest on Channel 4's Sunday Brunch last weekend, an experience the world champion described as "petrifying".
The athlete feels more comfortable visiting schools in her home borough of Newham, a one-woman mission to leave an Olympic legacy by raising the aspirations of children in the area.
"I will hopefully visit at least three schools next week, it's going to take me years to visit every school in the borough," says Ohuruogu, giggling once again, this time with incredulity at the task she has set herself.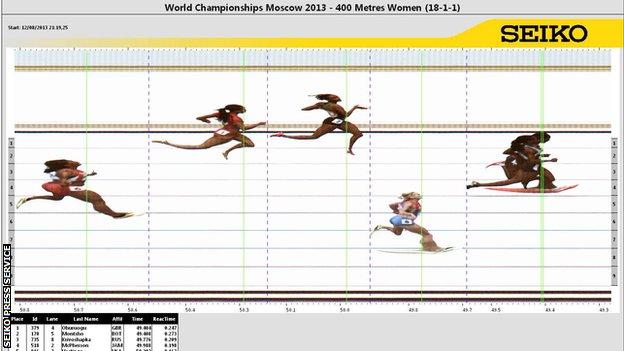 "It's important for them to know there could easily be other Christines in their school. It's nice for them to see I'm just a normal person, that there's nothing special about me, that I'm just doing my job.
"Nothing beats watching their eyes light up. They will forever remember they've held an Olympic gold medal and no matter what else goes on in the world, I'm just happy I can do that for the kids."
The thought of visiting Newham's schools with anything other than a gold from Moscow added to the motivation to reclaim the world crown she first won in Osaka in 2007.
"There was no way I could return to these schools and not get it done," she says.
Ohuruogu returned from Moscow not only with a gold but a British record, one which was held by Kathy Cook for 29 years until the Eastender beat Amantle Montsho in a photo finish.
She will, of course, happily talk to the wide-eyed students about her perfectly timed dip to the line, but hopes they will not make her watch the race.
"I don't usually watch my races but I was forced to watch it two weeks ago by my sports physiologist," Ohuruogu says.
"It was almost like I was back there again. My heart went crazy, it was too much. I couldn't take it, it was really hard because, in my head, I went straight back to Moscow and I was remembering what it felt like during the warm-up and at the start line. I started to feel sick, I wasn't ready for that.
"When you watch it with a fresh pair of eyes you realise how close you were to not making it, and that's quite scary to watch."
Ohuruogu has yet to celebrate her summer achievements, where she also won 4x400m relay bronze, and the bars of London must wait until she has competed at this weekend's Great North City Games.
"The athletes love competing in the City Games," says Ohuruogu, who will race in the 150m in Newcastle.
"It's really nice that my last performance of the season is on British soil, just to say thank you to the British public for being great all season.
"Some of us have had really good months, some of us haven't but, either way, they still supported and backed us."