Tasha Danvers on motherhood, sacrifice and feeling suicidal
Last updated on .From the section Athletics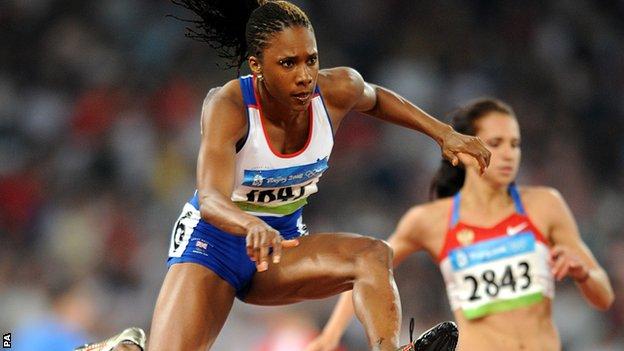 She walked towards the abortion clinic consumed by confusion and sorrow. And then she sobbed. In those agonised steps towards the entrance, she had a change of heart. Tasha Danvers was going to be a mum. It was, she says, an "emotional nightmare".
"I could almost touch my dream of becoming an Olympic medallist," says the 36-year-old former athlete, speaking as part of a BBC Radio 5 live programme on sportswomen and motherhood.
"But I couldn't [go through with the termination] and I just broke down crying because that meant I was giving up on my dream."
The Londoner was 27 at the time and in her sporting prime, with the 2004 Athens Olympics just months away. Her husband and coach Darrell Smith felt, in Danvers's words, like a buffoon.
Pregnant athletes have competed at the Olympics, of course. Only last year, Nur Suryani Mohamed Taibi was eight months pregnant when she became the first woman to represent Malaysia in Olympic shooting.
Taking aim while seated is one thing. Negotiating the 400m hurdles, with an ever-growing bump, is another.
"When you're married and getting on with life, it's no big deal, but as a professional athlete this is not done. You just don't get pregnant during an Olympic year," says Danvers.
"I don't think I felt much excitement. On the one hand, you want to carry on with your dream but, on the other, you're a married woman and, at the end of the day, the only thing that's going to last is life.
"I knew that if I went through with the abortion I wouldn't recover well emotionally and, as an athlete, your whole self needs to be in good shape; emotionally, physically and mentally.
"If I was ruined emotionally, I probably wouldn't perform well anyway. As hard as it was, I had to do what felt right for me."
Danvers watched the Olympic opening ceremony from home while her husband attended the glitzy gala in the Greek capital. Once more, she cried.
"My husband continued with his dream of going to the Olympics as a coach and I couldn't watch any more after that," she admits.
But there was to be life after motherhood as Danvers went on to become one of a number of athletes to prove that becoming a mum need not be an obstacle to sporting success.
After all, Liz McColgan had won 10,000m gold at the 1991 World Championships after giving birth to her first child Eilish, while back in 1948 Fanny Blankers-Koen, a mother of two, won four gold medals for the Netherlands at the London Olympics.
Seven months after the birth of her son Jaden, Danvers finished a confidence-boosting fifth in her first competitive race. A silver at the 2006 Commonwealth Games followed and reaching the final of the World Championships in Osaka a year later lent credence to her belief she could compete with the elite at the 2008 Beijing Olympics.
And so, at the age of 30, the Los Angeles-based athlete produced the fastest run of her life in the Chinese capital to win bronze in 53.84 seconds, leaping in "complete and utter joy" after seeing her name below only Jamaican Melanie Walker and American Sheena Tosta on the scoreboard.
But all was not rosy. Danvers and her American husband were divorcing, and although her passion for the sport was "dying out", she returned to England with London 2012 in her sights.
She set up base in Birmingham to be closer to her family, but the daily grind of combining the school run with a commute to London for training took its toll.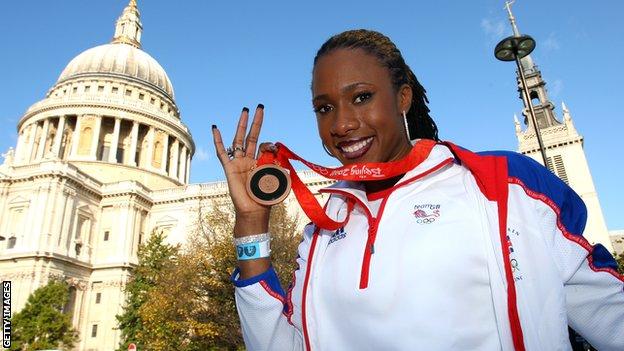 "At Christmas we went back to the US to visit Jaden's family and he said 'I want to stay in LA'," recalls Danvers. "Then I knew it was time for him to go back to the US and I definitely underestimated how that would make me feel. That was the beginning of a major downward spiral."
The image of her five-year-old son waving goodbye from the back of a taxi as he left for California still haunts Danvers.
Perhaps understandably, depression took hold and on Thursday, 23 June 2011, heartbroken, blighted by injuries and dependant on anti-depressants, she tried to kill herself.
Danvers, who on Twitter describes herself as complex, recalls how darkness engulfed her as she drove home from training.
"All of a sudden, I was crying my eyes out. I didn't know why I was crying," she says.
"I thought, 'If I can't even have a good day without going crazy at some point, I just don't want to do it any more'.
"I had been prescribed sleeping tablets because I had insomnia and I took every one I could find. I tried to communicate with my boyfriend at the time. He noticed something was wrong, and the next thing I knew the ambulance was there and I woke up in hospital.
"If I had Jaden they probably would have taken him but, probably, if I had Jaden I wouldn't have been there in the first place."
Danvers returned to Los Angeles to be with her son, embarking on what she calls the beginning of the rest of her life, and within eight months she was no longer taking anti-depressants.
There would be no London 2012 for Danvers - she retired in June of that year because of injuries.
And she still talks of life being not "exactly how I want it to be", but the melancholy is pushed aside when, with the interview nearing its conclusion, her son awakes from his slumber and whispers to her a dozy "I love you".
"Sometimes I can't believe he's actually mine," is Danvers's response, the Olympian-turned-trainer sounding as happy as she says she is.
"It's hard to be a mother. Full stop. If you're a working mum, it's that much harder, and if you're a professional athlete and a mum you have the added pressure of being away for weeks and months. It's very difficult, not just for you but for your child, who also has to sacrifice time with you.
"I think we did a good thing. I'm proud of him. He wants to be a runner, by the way. I've told him we need to talk about that one."