Mo Farah marathon record bid 'ambitious' - Lord Coe
Last updated on .From the section Athletics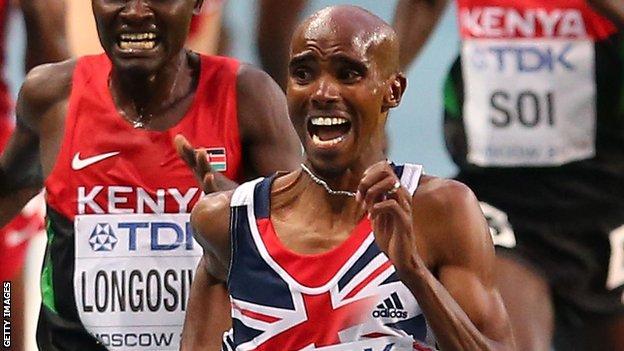 Double Olympic champion Sebastian Coe says Mo Farah's aim to break two hours for the marathon is "highly ambitious".
Britain's Farah, the 5,000m and 10,000m world and Olympic champion, is said to be looking at becoming the first to run the 26.2 mile race in under two hours.
"This is a very ambitious aim from Mo," Lord Coe told BBC Radio 5 live's Sportsweek programme.
"I love ambition. You cannot even think of breaking a record unless you are innately ambitious."
Kenyan Wilson Kipsang broke the marathon world record by 15 seconds as he claimed the Berlin title last Sunday.
The 31-year-old clocked a time of two hours three minutes 23 seconds to better the previous mark set by compatriot Patrick Makau two years ago.
And 30-year-old Farah is intending to trim that time even further, something Coe says would be a huge feat.
Coe, who won the 1500m Olympic titles in 1980 and 1984, explained: "With the risk of this sounding like a maths tutorial, the arithmetic of a sub two hour marathon is both instructive and quite sobering.
"You've got to run four minutes thirty five seconds per mile over the course. To put that into perspective and to understand what that means, go down to your local running track, run a lap in under 70 seconds, and then continue for 105 laps. You get the scale of what we are talking about.
"This is highly ambitious observation from Mo but he has the right training group in his corner. His coach Alberto Salazar is a former world marathon record holder. This is a very, very ambitious aim."
Sir Roger Bannister, who was first person to run a sub four-minute mile believes with the right conditions and conditioning, Farah can achieve it.
"I don't think Mo will be ready to do it next year but it is of course possible," Sir Roger told BBC Radio 5 live.
"It has to be a set occasion, it couldn't be at an event and he would have to be lucky to have a day when the weather is favourable.
"He needs a course that is relatively flat, without hills. He needs a freedom from wind because that slows you down and he has to have pacemakers who will enable him to relax."
However, Bannister did admit that Farah is yet to prove himself in a marathon despite having established himself as one of the greatest long-distance runners of all time.
"I think Mo is the most talented, wide-ranging distance runner we have ever seen," said Bannister.
"He may be best at the lower range because he has broken Steve Cram's 1500m British record and run multiple times at 5k and 10k. But he has not run at the marathon distance and we cannot be sure if his qualities extend."