Jamaican athletes' drug-testing practices to be audited
Last updated on .From the section Athletics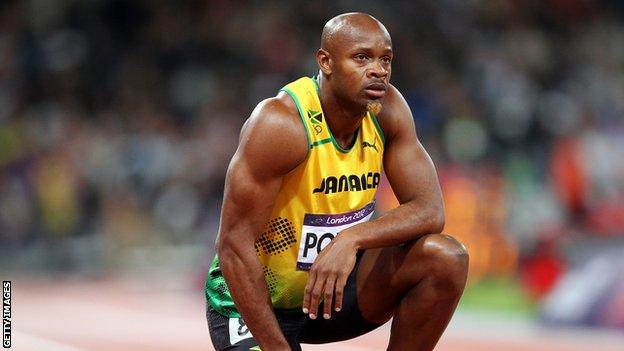 Jamaica's drug-testing practices are to be audited by the World Anti-Doping Agency (Wada) amid claims of worrying gaps in screening.
A former director of the Jamaican Anti-Doping Commission (Jadco) says out-of-competition testing was insufficient ahead of the 2012 Olympics in London.
A number of Jamaican stars, including sprinter Asafa Powell, have since tested positive for banned substances.
Wada plans to visit Jamaica next year in order to examine Jadco's practices.
"Wada has accepted an invitation from the Prime Minister of Jamaica to visit and inspect Jadco," said the agency.
"Wada was unhappy to learn that Jadco cannot accommodate this visit until 2014."
The IAAF, the body that governs world athletics, insists it has extensively tested elite Jamaican athletes.
But the country's reputation has been tarnished in recent months with news of positive tests by Powell, Sherone Simpson and three-time Olympic gold medal winner Veronica Campbell-Brown.
Former Jadco director Renee Anne Shirley alleged in August that athletes were not tested outside of competition for five of the seven months before last year's Olympics.
While the organisation's chairman Herbert Elliot has dismissed her claims, Wada director-general David Howman believes there is an issue.
"There was a period of - and forgive me if I don't have the number of months right - but maybe five to six months during the beginning part of 2012 where there was no effective operation," Howman told the Associated Press news agency.
"There might have been one or two, but there was no testing. So we were worried about it, obviously.''
Jadco is not the only body carrying out drug tests on Jamaican athletes.
An IAAF spokesman told the Associated Press that its own out-of-competition programme was "robust and comprehensive", with tests carried out at Jamaican training camps.
In addition, all athletes finishing in the top five places at the London Games were tested by the International Olympic Committee.
Jamaica's sprinters won eight individual medals in London, with Usain Bolt defending his 100m and 200m sprint titles as well as winning gold in the 4x100m relay.