Nathan Douglas: Triple jumper hurt by lottery funding cut
Last updated on .From the section Athletics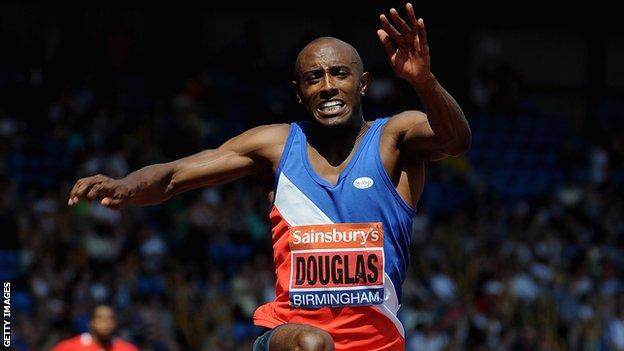 Not enough financial help is given to help athletes while they recover from injury, says former European triple jump silver medallist Nathan Douglas.
"It's becoming tougher and tougher to stay on lottery funding," Douglas said.
"If you're injured they're not interested, especially if you've had back-to-back injuries."
Douglas also told BBC Radio Oxford: "All it takes is two years of bad injuries and you are off funding."
Douglas tore ankle ligaments in a training accident in June 2011 by putting his foot through a plyometric box - a piece of equipment used for jump training - and struggled to return to full fitness.
Contrasting the fortunes of injured athletes with footballers in a similar situation, he said: "We're not quite getting £90,000 a week, that's for sure.
"It's quite simple, if you're not out there competing, you don't earn that much money. If you've been injured for too long you get kicked off lottery funding, which happened in my case.
"You keep plugging away and you have a few sponsors who help keep you going and you wait until the tide turns."
Asked whether enough was being done, he added: "Not for athletes who are having troubles along the way."
Douglas is desperate to put himself in contention for next summer's Commonwealth Games in Glasgow.
"I'm back in training and healthy," said Douglas.
"For sure, that's my aim, along with the European Championships."