Chris Tomlinson: Lottery funding criteria gets tougher each year
Last updated on .From the section Athletics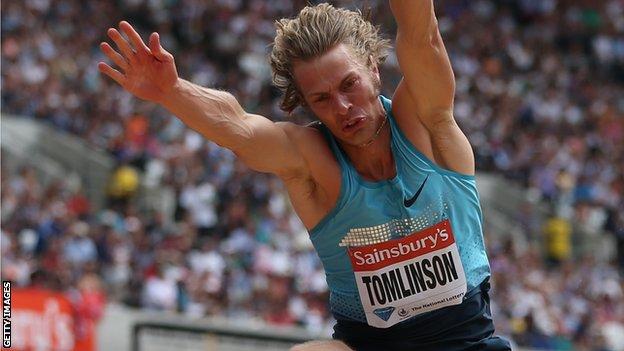 Great Britain long jumper Chris Tomlinson says meeting the criteria to receive lottery funding is becoming tougher each year.
"It was obviously great news to get the letter," he told BBC Tees.
"Individual cases are different but, from my experience over a decade, UK Sport keep moving the goalposts to make things even harder."
Middlesbrough-born Tomlinson has been a regular international since 2002, the year in which he broke Lyn Davies' 34-year-old British record of 8.23m before finishing sixth in both the European Championships and Commonwealth Games.
He improved his personal best to 8.35m in 2011, but now shares the record with Olympic champion Greg Rutherford, who jumped the same distance in the United States in May 2012.
Tomlinson finished sixth behind Rutherford at London 2012, but failed to qualify for the World Championships last summer.
"I looked at the criteria and one part of it was, 'did you finish in the top eight at London 2012', so I wasn't surprised to stay on funding," he continued.
"Then it gets a bit different. Basically, do British Athletics think you can win a medal at Rio 2016? That's something I feel I can achieve."
Several high-profile athletes were omitted from the funded list despite, like Tomlinson, achieving a top-eight finish in London.
At the 2012 Olympics, veteran triple-jumper Yamile Aldama, pole-vaulter Steve Lewis, and Jo Pavey and Julia Bleasdale, who both competed in the 5,000m and 10,000m, all placed in the top eight, but have lost their funding.
Aldama is 41 and Pavey 40, while Lewis and Bleasdale are 27 and 32 respectively.
"The criteria are the big things so the people who lost funding, well you would guess they didn't hit them," Tomlinson added.
"The likes of Steve and Yamile, I really feel for those people because they must be hugely disappointed that the judgement is that they're not moving forwards.
"Because of UK Sport's policy, the numbers on world-class funding are coming down and down. Gone are the days where making the final granted you another four-year cycle of funding."