Anti-doping officials from Wada to start Jamaica drugs audit
Last updated on .From the section Athletics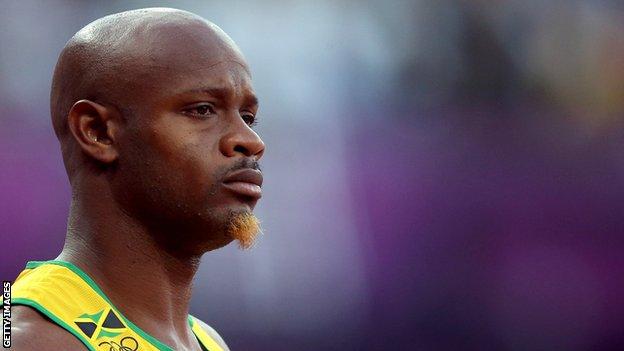 Officials from the World Anti-Doping Agency (Wada) have landed in Jamaica to carry out an audit of the country's anti-doping programmes.
Wada is meeting with Jamaica's Anti-Doping Commission (Jadco) after claims of gaps in their screening of athletes.
A former Jadco official said there was only one out-of-competition test in the six months before the London Olympics.
Jamaican athletes Asafa Powell, Veronica Campbell-Brown and Sherone Simpson all recently failed drug tests.
The credibility of Jamaica's anti-doping work has been called into question by ex-Jadco senior official Renee Anne Shirley.
But athletics' world governing body the IAAF subsequently said that the 19 Jamaican athletes in their registered pool of competitors were, on average, the most tested for any country in the lead up to the London Games.
Wada's officials will examine Jadco's drug testing programme, staffing, governance and education programme, as well as current cases of adverse analytical findings against some of the country's athletes.
Wada was invited to conduct an audit of the anti-doping programme by the Jamaican government, but Jadco initially said they could not accommodate the visit until 2014, leading officials from the world governing body to express their anger at the delay.
Former world 100m record holder Powell, twice 200m Olympic champion Campbell-Brown and London Games 4x100m relay silver medallist Simpson all failed drug tests and were left out of Jamaica's athletics team for the World Championships in August.
Campbell-Brown has since been censured for a positive test for the banned diuretic hydrochlorothiazide, which is on Wada's banned list as a masking agent, but escaped a ban.
In a separate issue Wada claimed it is "very frustrated" with Kenyan authorities over their lack of progress in a doping investigation promised over a year ago.
Kenya's government and national track and Olympic organisations said they would appoint a task force to look at allegations of an emerging doping culture in Kenyan athletics but 12 months later, Wada has not been told whether the investigating team has even started work.
Wada's Africa office director Rodney Swigelaar said: "We are very frustrated, it's more than a year now since we went there in October and even longer since the rumours started to spread and we have not been informed that this task team is in place.''