Jamaica faces serious questions in the fight against doping

By David Bond
BBC sports editor
Last updated on .From the section Athletics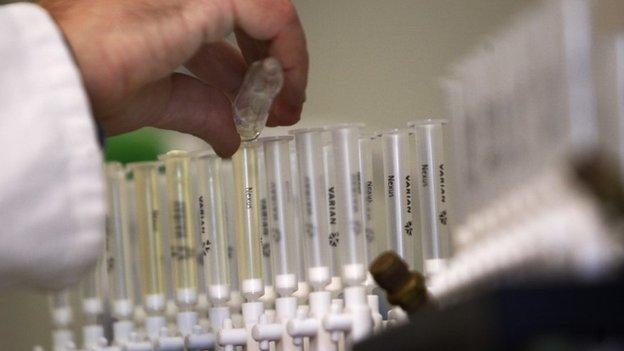 Does Jamaican sport have a problem with doping?
Dr Paul Wright seems to think so. As the country's most senior anti-doping control officer - he has been involved in the fight against drugs for 30 years - he is concerned that the recent spate of failed tests involving Jamaican athletes is indicative of something more worrying.
So what is the evidence?
A total of six Jamaican track and field athletes have tested positive this year - Veronica Campbell Brown, Asafa Powell, Alison Randall, Sherone Simpson, Travis Smikle and Demar Robinson. A footballer, Jermaine Hue, and taekwondo player Kenneth Edwards, have also failed tests.
By way of comparison UK Anti Doping recorded 26 anti-doping violations in 2012-13. Now, Britain is a much bigger country with many more elite sportsmen and women. So, once you factor that in, it is clear that Jamaica's spike - while alarming - is not completely off the scale.
Five of the six track and field athletes were caught by testers from the Jamaican Anti-Doping Commission (Jadco) at the country's national trials in June - which at least tells you Jadco are not trying to hide away from the problem.
Three of those athletes - Powell, Simpson and Smikle - tested positive for a banned stimulant called Oxilofrine.
Powell and Simpson - training partners and formerly members of the MVP track club in Kingston - are expected to argue at their disciplinary hearings in the next two months that the adverse findings may have been caused by a contaminated supplement given to them by a trainer.
As for the others, Campbell Brown - the three-time Olympic gold medallist - and Randall, tested positive for a substance called hydroclorathiazide.
Campbell Brown was suspended but later cleared to compete again and given a warning after a hearing by Jadco a few weeks ago. That verdict is currently being considered by the sport's world governing body, the International Association of Athletics Federations, who may appeal against the decision. If it chooses not to, then the World Anti-Doping Agency has 21 days to step in and appeal.
The last of the six, Robinson, an up-and-coming high jumper is believed to have tested positive for a banned steroid similar to testosterone, although that has not been officially confirmed.
Apart from Robinson then, none of the positives are for the really serious substances like steroids or EPO. Does that mean Jamaica's positive tests are a sign of naivety rather than something more sinister?
In a sport so tarnished by previous drugs scandals there's inevitably deep scepticism. But based on the substances so far discovered, Jamaica doesn't feel like a country involved in an East German-style doping ring.
Confidence has been further undermined, however, by the clear failings of the country's anti-doping regime. Back in the summer a former executive director of Jadco, Renee Anne Shirley, blew the whistle on the shambolic lack of testing in the run-up to the London Olympics. She revealed that in the six months before the 2012 Games, Jadco carried out just one out-of-competition test.
While she has been dismissed by those running Jadco, few people quibble with her statistics. After all, she should know - she was there when the testing, or lack of it, was being carried out.
The situation is slightly better now with almost 300 tests conducted in and out of competition this year. The split between in competition and out of competition is roughly 50-50 according to the Jamaican government.
In contrast, the UK conducted 7,000 tests, or 'missions' in 2012-13. Thirty per cent of those tests were out of competition so it is easy to see why Wada might be worried about a country that has become one of the superpowers of track and field.
Of course it must be pointed out that while Jadco might have been failing to conduct enough tests, the IAAF was still testing Jamaica's elite pool athletes. These tests were in competition at the Olympics, Moscow World Championships and other big meetings, and out of competition in Jamaica and at training camps.
So the Sports Minister of Jamaica, Natalie Neita Headley, is quite right when she says to portray Jamaican athletes as untested is misleading in the extreme.
But Dr Wright has now raised fresh concerns about the system in Jamaica - no blood testing, no test for EPO, a complete absence of intelligence-led testing and potential conflicts of interest involving the directors of Jadco, who represent sports at the same time as sitting on the country's anti-doping board.
What's more he clearly doubts whether the changes promised by the Jamaican government will be enough to restore confidence.
Some may say his "tip of the iceberg" remark is overly "dramatic" but these criticisms are hard to dismiss out of hand.
Still, at least it looks like Jamaica is getting the message. The government is putting more money in and is promising more tests and testers. Headley also acknowledges candidly the need to up their game or risk further damage to the Jamaican brand.
Part of the problem - and this is not just exclusive to Jamaica, just look at Kenya too - is that Jamaica's athletes have taken the country to stratospheric sporting levels at breakneck speed.
For a nation with crippling debts and limited resources, is it any wonder the administrators are struggling to keep up?