Jamaica lost way on doping - Wada chief John Fahey
Last updated on .From the section Athletics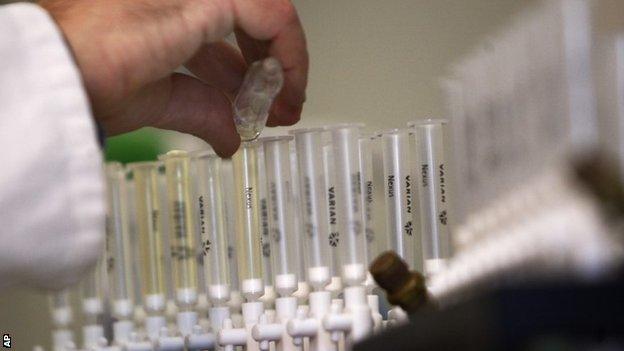 The head of the World Anti-Doping Agency (Wada) says Jamaica has "lost its way" on drug testing for athletes.
His comments come after the country's senior drug tester said recent failed tests might be the "tip of an iceberg".
Wada president John Fahey was also critical of the attitude towards drug testing in Kenya, which has also had a number of recent failed tests.
But he admitted: "There is no power whatsoever for Wada under our code to compel anyone to do certain things."
Concerns over Jamaica's drugs testing regime were raised after former Jadco (the country's anti-doping commission) executive director Renee Anne Shirley said the agency had conducted only one out-of-competition test in the six months leading up to the 2012 Olympic Games in London.
Her revelation followed a series of positive tests for Jamaican athletes and resulted in Wada visiting the country at the end of October to assess its doping policies.
Former 100m world record holder Asafa Powell, three-time Olympic gold medallist Veronica Campbell-Brown and Olympic relay gold medallist Sherone Simpson are among six Jamaicans who have tested positive this year.
Wada officials are due to discuss their visit to Jamaica at an executive board meeting in Johannesburg, South Africa, on Tuesday and they could make a series of recommendations to improve the Caribbean island's anti-doping policies.
One of those will be for Jamaica's anti-doping team to be 'mentored' by a more successful agency. Fahey told a news conference in Johannesburg: "I am confident, from the discussions that took place, that there's a recognition in Jamaica that they have to do a whole lot better and they have to beef up their programme and skill set. Wada will give them every assistance there.
"We have asked them to enter an international partnership. We've found that's been very effective in other struggling areas of anti-doping. For example, Russia have been mentored by Norway and that proved to be a very valuable way of doing things."
Earlier, Fahey told BBC Radio 4's Today programme: "We've been aware of difficulties in Jamaica for some time.
"We've gone to them, we have assisted them, we've given them some support, we've indicated that they need to make some improvements - we've received a number of assurances that that was occurring.
"It was only in recent times when further information came to light that indications were that, despite some improvements a few years ago, they'd lost their way again that we felt the need to go back again and we did that."
There have also been fears raised about the level of anti-doping testing in Kenya.
Since January 2012, 17 Kenyan athletes have been suspended for using performance-enhancing drugs and Wada will discuss the issue in Johannesburg.
Fahey said he was "disappointed" at the attitude to anti-doping shown by Kenyan officials but admitted it was a voluntary system, adding: "If Kenya does not wish to increase its activity in anti-doping then there is not a lot that can be done."
However, while Fahey, who is due to be replaced by Britain's Sir Craig Reedie later this week, expressed frustration at the lack of power Wada has, he believes forthcoming changes will strengthen the organisation's powers.
"I can say to you that with the code in review there is a likelihood by the end of this week for there to be a much greater emphasis on investigation and a capacity, when investigations are not conducted in countries like Kenya, for Wada to instigate the investigations themselves - and I welcome that."