US Anti-Doping Agency offers to mentor Jamaica's anti-doping team
Last updated on .From the section Athletics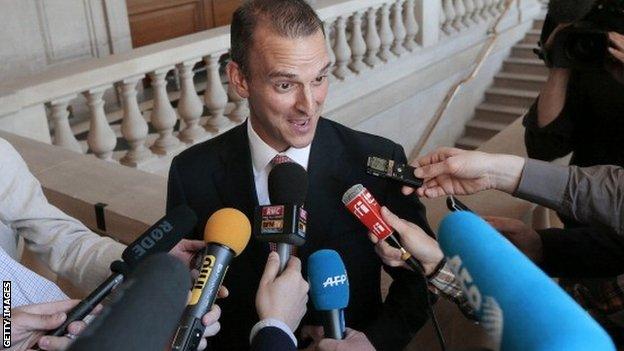 The United States' Anti-Doping Agency (Usada) has offered to help Jamaica's anti-doping team because they feel the island's athletes have been "let down".
Usada's chief executive Travis Tygart said talks had already begun over a possible partnership with Jamaica.
"Jamaican athletes deserve a robust anti-doping programme," said Tygart.
Six Jamaican athletes have tested positive this year and the country has already been accused of "losing its way" on drug testing for athletes.
John Fahey, president of the World Anti-Doping Agency (Wada), earlier this week said his organisation had been aware of difficulties in Jamaica for some time, revealing one of the solutions was for the country's anti-doping team to be mentored by a more successful agency.
Paul Wright, Jamaica's most senior drug tester, also warned that the recent rash of failed tests might be the "tip of an iceberg".
Former Jadco (Jamaica's anti-doping commission) executive director Renee Anne Shirley raised concerns when she said the agency had conducted only one out-of-competition test in the six months leading up to the 2012 Olympic Games in London.
Her comments followed a series of positive tests for Jamaican athletes and resulted in Wada visiting the country at the end of October to assess its doping policies.
Former 100m world record holder Asafa Powell, three-time Olympic gold medallist Veronica Campbell-Brown and Olympic relay gold medallist Sherone Simpson are among six Jamaicans who have tested positive this year.
"Right now, the athletes in Jamaica are being let down by their organisation," said Tygart.
"Having one test out of competition prior to the London Olympic Games, if what is being reported is accurate, is unacceptable. No blood test, no human growth hormone test - that's an injustice to the fairness of the sport and tremendously letting down those athletes.
"A firm, committed play to moving forward is what we're all after.
"There have been discussions. We've talked to Wada, we've met with the Jamaican officials.
"We'll sort through whether there's a role for us to play. We're happy to help some other programmes that need some assistance."