Shelly-Ann Fraser-Pryce: Jamaica sprinter may refuse to run

By Ben Smith
BBC Sport in Monaco
Last updated on .From the section Athletics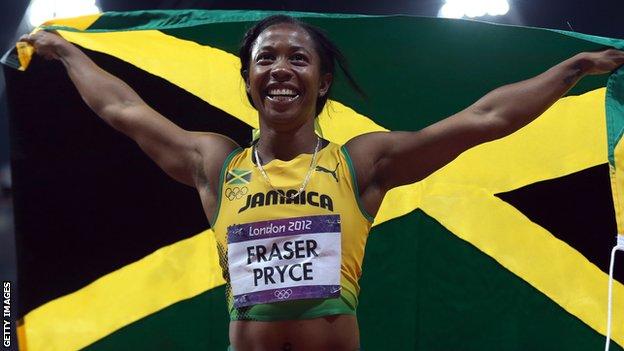 Sprint star Shelly-Ann Fraser-Pryce says she will refuse to run in major events unless Jamaica's athletics authorities "stand by" their athletes.
But the 26-year-old World and Olympic 100m champion said the comments "hurt".
"It is so important that our federation stands by our athletes. If it's down to making sure things are up to scratch, I would [refuse to run]," she added.
In 2010, Fraser-Pryce was banned for six months following a positive drugs test for oxycodone. She claimed it was in her system as a result of medication for toothache.
Fraser-Pryce, who has been shortlisted for the International Association of Athletics Federations (IAAF) world athlete of the year award, also said she was in advanced talks to set up a union in Jamaica to give athletes a voice and to offer support and education from 2014.
Speaking ahead of the World Athletics Gala in Monaco, she told BBC Sport: "If there are certain things that are not up to standard then it [not running] is something you have to do. We believe we deserve to have good things, not to have our name tarnished at a time when we are doing so well.
"It is so important that our federation stands by our athletes, not says the kind of things they say about our athletes.
"We need a voice to be able to stand up and say 'you can't say these things without having proof'. We have come so far in athletics in our country but we are still stagnant in other areas."
When asked specifically about the "tip of the iceberg" comment, Fraser-Pryce added: "That is exactly what I am saying. If you are Jamaican and make a statement like that then those things are hurtful."
Six Jamaican athletes have tested positive this year, but Fraser-Pryce claims the country does not have a doping problem.
"We don't have a doping issue - we are tested wherever we go," she said.
"There is no one in Jamaica saying 'let's dope up to run fast'. That is just not true. Where we have issues is with our young athletes who are getting involved in doping issues because nobody is there to give guidance.
"We are doing very well for our country internationally but when we are in Jamaica our athletes are not being looked after. We are selling our country and marketing our country to the word and not being paid for it.
"Why aren't we getting the support we deserve? A lot of our young athletes are struggling back in Jamaica. They are not able to get the medical attention they need, they are not able to eat properly.
"We are treated sometimes unfairly. It is almost as if they (the federation) don't believe we are world class athletes. We are international athletes and we should be treated that way. We should be able to say that if things don't go our way we will not be running."
Fraser-Pryce has enjoyed another incredible year of success, adding three world championship titles, in the 100m, 200m and 4x100m relay, to the one gold and two silver medals she won in those events at the 2012 Olympics. But she rejected any suggestions that Jamaica's doping problems had overshadowed her success.
"I don't think it has cast any shadow over my achievements," she said.
"It can get discouraging at times. Of course it is something I hope will get better. As athletes our job is to train and compete. There is nothing for me to hide."