Shelly-Ann Fraser-Pryce threat backed by incoming Wada chief
Last updated on .From the section Athletics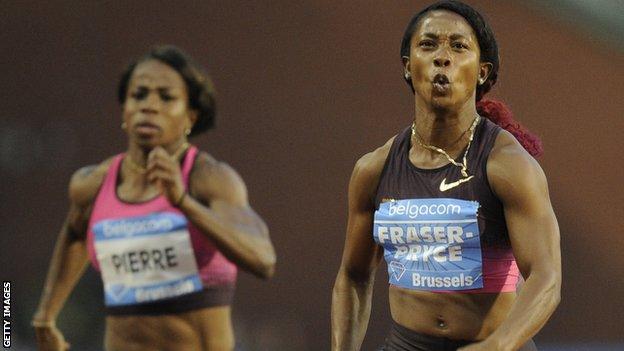 Shelly-Ann Fraser-Pryce's boycott threat is "welcome" if it helps clean up Jamaican athletics, says the incoming World Anti-Doping Agency boss.
The agency is looking into criticisms of Jamaica's anti-doping regime.
Fraser-Pryce says she will refuse to run unless the country's athletics authorities "stand by" their athletes.
"A reaction like that would be welcomed by anybody who is concerned that there have been breaches in the system," Sir Craig Reedie told BBC Sport.
"I would always regret the athlete not taking part for reasons other than illness or injury.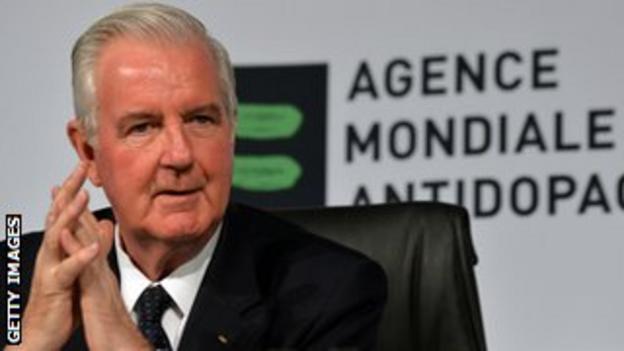 "But if that helps Jamaica to reinforce what they've got to do, and to be much more effective, then maybe her actions will be of considerable help to the fight against doping in sport in that country.
"People will say that we need this to be better. It's happened in other sports. Leading athletes have said: 'We think you should be doing this better.' And that becomes a pretty compelling argument in favour of improvements to the system."
Double Olympic 100m champion Fraser-Pryce spoke out as Jamaica's drug testing programme faces a crisis.
Six of the Caribbean island's track and field athletes have tested positive for banned substances this year, including former 100m world record holder Asafa Powell and Sherone Simpson, an Olympic relay gold medallist at the 2004 Athens Games.
Former Jamaican Anti-Doping Commission (Jadco) executive director Renee Anne Shirley then revealed that the agency conducted just one out-of-competition test in the six months leading up to last year's Olympics.
The World Anti-Doping Agency (Wada) has since visited Jamaica to investigate the claims, while the country's most senior drug tester, Dr Paul Wright, has said that the failed tests may be the "tip of the iceberg".
Fraser-Pryce - who has been shortlisted for the International Association of Athletics Federations (IAAF) world athlete of the year award - said those comments "hurt", and added that she was in advanced talks to set up a union in Jamaica to give athletes a voice and to offer support and education from 2014.
United States Anti-Doping Agency (Usada) chief executive Travis Tygart has described the Jamaican testing system as "an injustice to the fairness of the sport".
But Reedie, who will succeed John Fahey as Wada president in January, said: "He's being a bit hard. I know that they've had difficulties. I think they're determined to resolve the issue and steps are being taken to do that.
"It doesn't seem to me to be totally responsible or helpful to turn round and say, 'It's a complete shambles,' without taking action to do something about it, and they're doing that."
Reedie, though, acknowledged that Jamaica's testing procedures were not up to international standards, and welcomed an offer by Tygart to help the country's authorities tackle the problem.
"It's clear they weren't doing enough testing themselves," Reedie said. "Their governance was wrong.
"It would appear that the (Jadco) board were involved in the day-to-day management of the testing programme. There are clear conflicts of interest.
"That's not the way, for example, that UK anti-doping works. And it works extremely well.
"So there are lots of good examples out there. One of them, I have to say, would be Usada.
"It might well be that if they need help. Maybe we should be speaking to Usada, to get them to show how it should be done."
Reedie gave credit to the Jamaican Minister for Sport Natalie Neita Headley for pledging to increase their annual testing budget.
But he added: "I think the issue that the Jamaican people have is a little bit to do with them not fully understanding the view of the rest of the world.
"They have been so successful - mainly in short, dynamic events - at the Olympic Games, that the rest of the world thinks that maybe more tests should be done."