Usain Bolt: World Anti-Doping Agency probe may cost me money
Last updated on .From the section Athletics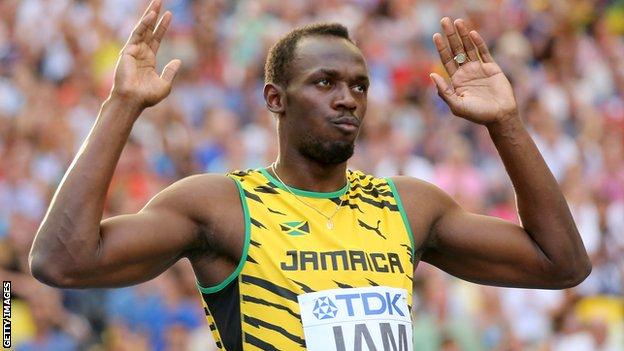 Six-time Olympic champion Usain Bolt claims the World Anti-Doping Agency's (Wada) investigation into Jamaica could cost him a lucrative sponsorship deal at the Rio Olympic Games in 2016.
But Bolt said he would not be following his compatriot Shelly-Ann Fraser-Pryce in threatening to strike in response.
"For me this is my job, I can't just get up and go on strike," said Bolt.
"There was a rumour going around saying they were going to try and ban Jamaica if they did not have the Jamaican drug testing facility in order.
"But I'm saying if you're going to say that, you've got to be very careful of how you're saying it because now my sponsors say that if I don't run at the Olympics 'why should we sponsor you?' It's costing me money so they should sort this out and then there's no problem."
Six Jamaican athletes have tested positive this year, and the United States' Anti-Doping Agency (Usada) has already offered to help Jamaica's anti-doping team because they feel the island's athletes have been "let down".
But Bolt, who lifted the International Association of Athletics Federations (IAAF) athlete of the year award for the fifth time in six years at the weekend, acknowledges that "Jamaica might not be doing 100%", but added "it doesn't have a lot of money like everybody else around the world. We don't get a lot of sponsors.
"The IAAF president says the Jamaican federation has done a good job in cracking down, they just need help to develop their testing facilities more. I think it's a problem but I think they'll sort it out but they need to do it quickly."