UK Athletics: Olympian Chris Thompson questions decisions
By Joe Townsend
BBC North East & Cumbria Sport
Last updated on .From the section Athletics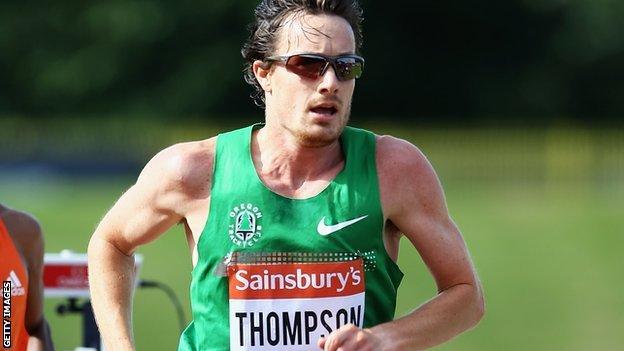 Chris Thompson, the is unsure whether UK Athletics "makes decisions for the good of the sport".
Last year, the 2012 Olympian, 32, ran the World Championship 'B' standard for 10,000m and therefore could have been taken to Moscow, but was not selected.
The only Britons to have beaten his 2013 best of 27 minutes 40 seconds since 1998 are himself and Mo Farah.
He told BBC Sport: "Surely take as many people as possible? It's very strange."
The governing body's selection criteria stated any athlete who had achieved only a 'B' standard must have "not previously competed in an individual event at the Olympic Games or World Championships".
That meant Barrow-born Thompson, who runs for the Aldershot Farnham & District club, missed out.
Despite running just 0.81 seconds outside the 'A' standard, he was not selected "at the performance director's discretion", though the criteria could have allowed it.
"It's hard to take when your country can pick you but don't, especially when they're not taking someone else instead," Thompson said.
"I would question the decisions as I think it's a no-brainer to select everyone that you can.
"If these people are not making decisions for the good of our sport, what the heck are they doing in their position?"
On Tuesday, at the £93,000 bonus awarded to UK Athletics chief executive Niels de Vos.
The payment was a long-term incentive bonus, written into the contract he signed in 2007.
Thompson, who won a 10,000m silver medal at the 2010 European Championships, lost his lottery funding after finishing 25th at London 2012.
"I totally understand the decision to cut my funding," he said.
"But with the bonus Niels de Vos got, I'd love to know whether he believes he deserves that, and is doing a good job for athletics in Britain.
"On the surface, it looks great because Mo Farah is winning medals, but the very pathway that enabled him to gradually progress is falling apart.
"You inspire people to do sport when they see Britons competing on television, not by looking for reasons not to select athletes."