Jonathan Taylor takes heart from Great Edinburgh XCountry run
By Joe Townsend
BBC North East & Cumbria Sport
Last updated on .From the section Athletics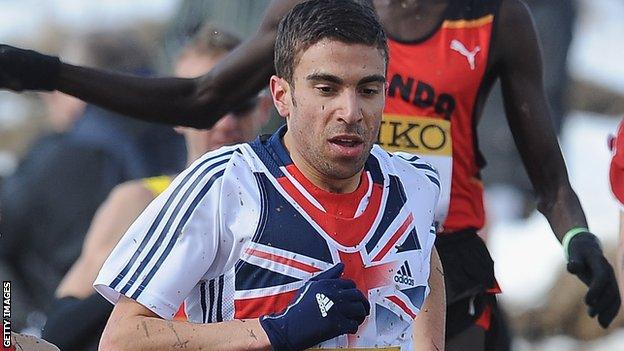 Jonathan Taylor hopes his performance in the Great Edinburgh XCountry four-kilometre race kick starts his season.
The Middlesbrough man failed to qualify for December's European Cross Country, a race in which
three seconds behind 5,000 and 10,000-metre world-record holder Kenenisa Bekele.
"It's the best I've run for a while now so I'm really pleased to get going as I was injured and ill before the European trial race," Taylor told BBC Sport.
Before the weekend race in Scotland's capital, the 26-year-old had endured a frustrating few months.
Two weeks prior to his disappointing performance in Great Britain's European Cross Country selection race, he failed to finish whilst racing for England in Spain.
"I became quite unwell on the eve of that race, but I'd made the trip abroad and thought I should give it a go anyway," he explained.
"With hindsight, it was a bad idea as it really set me back."
Last winter, Taylor backed up his impressive European Cross performance by
Having ended the previous summer by running eight minutes, 38 seconds in the 3000m-steeplechase - a 10-second improvement - he looked set to improve that mark further. But it did not transpire that way.
"I don't regret doing the World Cross, but I do think it was one cross country too many last season," said Taylor.
"After it, I just steadily declined during the track season which was frustrating.
"I particularly struggled over steeplechase, and quite honestly I've only ever had one really good performance.
"It's made me decide I'm going to quit the event now and stick to the flat. The times I consistently run for it don't do me justice as an athlete."